Maple Pumpkin Cheesecake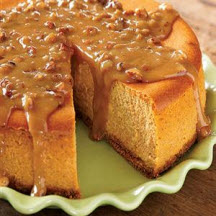 For something a little bit different and a whole lot delicious, make this autumn pumpkin cheesecake instead of pumpkin pie for your Thanksgiving feast.
Recipe Ingredients:
Crust:
1 1/4 cups graham cracker crumbs
1/4 cup granulated sugar
1/4 cup butter or margarine, melted
For Filling:
3 (8-ounce) packages cream cheese, softened
1 (14-ounce) can EAGLE BRAND® Sweetened Condensed Milk
1 (15-ounce) can pumpkin (2 cups)
3 large eggs
1/4 cup pure maple syrup
1 1/2 teaspoons ground cinnamon
1 teaspoon ground nutmeg
1/2 teaspoon salt
Maple Pecan Glaze:
3/4 cup pure maple syrup
1 cup (1/2 pint) whipping cream
1/2 cup chopped pecans
Cooking Directions:
Preheat oven to 325ºF (160ºC).
For Crust: Combine graham cracker crumbs, sugar and butter; press firmly on bottom of 9-inch springform pan.
In large bowl, beat cream cheese until fluffy. Gradually beat in EAGLE BRAND® until smooth. Add pumpkin, eggs, maple syrup, cinnamon, nutmeg and salt; mix well. Pour into prepared pan.
Bake 1 hour and 15 minutes or until center appears nearly set when shaken. Cool 1 hour. Cover and chill at least 4 hours.
Top with Maple Pecan Glaze. Store leftovers covered in refrigerator.
For Maple Pecan Glaze: In medium-sized saucepan, combine maple syrup and whipping cream; bring to a boil. Boil rapidly 15 to 20 minutes or until thickened; stir occasionally. Add chopped pecans. Cover and chill until served. Stir before serving.
Makes 10 to 12 servings.
Recipe and photograph provided courtesy of Eagle Family Foods, Inc.