Mateo Family Puerto Rican Sweet Rice Pudding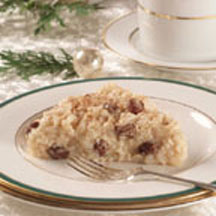 While enjoyed throughout the holiday season in Puerto Rico, especially in the Mateo household in Coamo, this sweet rice pudding is traditionally served for dessert on Christmas Eve.
Raisins, cinnamon, and coconut milk flavor the pudding mixture, which is cooled in pie plates or a baking dish then chilled until firm and cut into wedges for serving. The rice is soaked for two hours before it's cooked, so be sure to allow time for this preparation step.
Recipe Ingredients:
1 cup uncooked medium-grain white rice
2-inch piece of fresh ginger, peeled and cut into chunks
2 cinnamon sticks
4 to 5 whole cloves
2 cups water
1 (12-ounce) can NESTLÉ® CARNATION® Evaporated Milk
1 (13.5-ounce) can coconut milk
1 3/4 cups water
1 teaspoon salt
1 cup granulated sugar
1/2 cup raisins
Ground cinnamon powder for garnish
Cooking Directions:
Place ginger, cinnamon sticks, cloves and 2 cups water in medium saucepan; bring to a boil. Reduce heat to low; simmer for about 1 hour, stir occassionally. Strain mixture into pitcher or bowl; discard ginger, cinnamon sticks and cloves. Set aside flavored liquid; 1 cup of this liquid will be needed later in recipe.
Combine evaporated milk, coconut milk, 1 cup of reserved ginger-cinnamon liquid, 1 3/4 cups water (enough liquid to make 6 cups total) and salt in large, heavy-duty saucepan. Set aside 1 cup of this mixture. Heat milk mixture in saucepan on high heat until mixture comes to a boil. Add rice; reduce heat to low. Cook for 30 minutes; do not stir.
Stir in sugar, raisins and reserved 1 cup of milk mixture. Cook for an additional 40 minutes to 1 hour, stirring every 10 minutes. (Do not stir in circular motion, but instead bring spoon from edge of pan in folding motion so that bottom of rice mixture ends up on top. This is to avoid the rice from sticking to the bottom of the pan.) When it is ready, mixture will be somewhat soupy but not too liquidy. It will have the consistency of a creamy rice pudding.
Grease two 9-inch pie plates or 13x9x2-inch baking dish. Divide rice mixture between two pie plates. Cool for about 2 hours. Sprinkle with cinnamon. Refrigerate for at least 2 hours. To serve, cut into wedges or squares.
Makes 16 servings.
Nutritional Information Per Serving (1/16 of recipe): Calories: 190 Calories from Fat: 60 Total Fat: 7 g Saturated Fat: 6 g Cholesterol: 0 mg Sodium: 160 mg Carbohydrates: 29 g Dietary Fiber: 1 g Sugars: 17 g Protein: 2 g.
Recipe and photograph are the property of Nestlé® and Meals.com, used with permission.