Mini Pear-Ginger Cheesecakes with Gingersnap Crust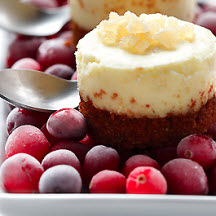 These individual cheesecakes are a healthier twist on the classic dessert with crystallized ginger, dried pears and a gingersnap crust made with canola oil. Sugar plums will be dancing in your head with each bite!
Recipe Ingredients:
Cheesecake Filling:
1/2 cup water
8 dried pear halves, chopped (dried apples can be substituted)
1/3 cup crystallized ginger
3 (8-ounce) packages low-fat cream cheese, room temperature
2 large eggs, lightly beaten
3/4 cup granulated sugar
Crust:
40 gingersnap cookies, processed to form crumbs
3 tablespoons canola oil
2 tablespoons brown sugar, packed
2 tablespoons granulated sugar
2 teaspoons salt
Crystallized ginger for garnish (optional)
Cooking Directions:
Preheat oven to 325°F (160°C).
For Cheesecake Filling: In medium saucepan, bring water, dried pears and crystallized ginger to simmer over medium heat. Reduce heat to low, cover and simmer for about 12 minutes until water is absorbed and pears softened.
In food processor, process pears and crystallized ginger until course paste forms and cool about 10 minutes. While paste is cooling, make crust.
For Crust: Combine all crust ingredients. Spray miniature cheesecake pans with canola oil. Divide crumb mixture evenly among mini cheesecake pans and press firmly into bottom.
Bake crusts for 8 to 10 minutes until golden brown around edges. Remove from oven and set on wire rack and cool completely.
Reduce oven temperature to 250°F (120°C).
While crusts are cooling, continue making cheesecake filling. In large bowl, beat cream cheese and gingered pear paste together on low until light and fluffy. Beat in eggs. Add sugar and beat until smooth, frequently scraping down sides of bowl with spatula. Transfer filling into liquid measuring cup or pitcher and pour filling into crusts, dividing evenly.
Place in oven and bake about 30 minutes until filling is set. Remove from oven and set on wire rack about 1 hour to cool completely. Then cover with plastic wrap and refrigerate for at least 4 hours before removing cheesecakes from pan.
To serve, garnish cheesecakes with crystallized ginger, if desired.
Makes 24 mini cheesecakes.
Tip: The cheesecakes can be also made in non-stick mini muffin tins that are sprayed well with canola oil and/or lined with cupcake holders.
Nutritional Information Per Serving (1/24 of recipe without garnish): Calories: 200; Total Fat: 7g; Saturated Fat: 2g; Cholesterol: 30mg; Total Carbs: 28g; Fiber: 1g; Sugar: 19g; Protein: 5g; Sodium: 350mg.
Recipe and photograph courtesy of CanolaInfo.org.