Mom's Special Occasion Ice Cream Cookie Dessert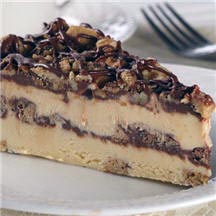 Simply fabulous in appearance, this dessert is built by layering crumbled chocolate chip cookies and toasted walnuts between tiers of vanilla ice cream and a delicious homemade chocolate sauce.
A finalist in the 2000 Share The Very Best Recipe Contest, this recipe was entered by Marge Mitchell of Portland, Oregon.
Recipe Ingredients:
1 cup plus 2 tablespoons all-purpose flour
1/2 teaspoon baking soda
1/2 teaspoon salt
1/2 cup butter or margarine, softened
1/2 cup packed brown sugar
1/2 cup granulated sugar
1/2 teaspoon vanilla extract
1 large egg
1 cup (6-ounces) NESTLÉ TOLL HOUSE Semi-Sweet Chocolate Morsels
1 cup chopped walnuts
1 1/2 tablespoons butter or margarine
1 tablespoon packed brown sugar
1 (12-ounce) can NESTLÉ® CARNATION® Evaporated Milk
1 cup (6-ounces) NESTLÉ TOLL HOUSE Semi-Sweet Chocolate Morsels
1 cup powdered sugar
2 ounces NESTLÉ® TOLL HOUSE® Unsweetened Chocolate Baking Bars, broken into pieces
2 tablespoons butter or margarine
1 tablespoon vanilla extract
1/2 gallon vanilla ice cream, softened
Cooking Directions:
For Cookies: Preheat oven to 375°F (190°C).
Combine flour, baking soda and salt in small bowl. Beat butter, brown sugar, granulated sugar and vanilla extract in large mixer bowl until creamy. Beat in egg. Gradually beat in flour mixture. Stir in 1 cup morsels. Drop by rounded tablespoon onto ungreased baking sheets.
Bake for 9 to 11 minutes or until golden brown. Cool on baking sheets for 2 minutes; remove to wire racks to cool completely. Chop cooled cookies into small pieces.
For Walnut Mix: Grease 8-inch-square baking pan. Combine walnuts, butter and brown sugar in small bowl. Pour into prepared pan. Bake for 8 to 10 minutes; stir well. Cool completely in pan on wire rack.
For Chocolate Sauce: Combine evaporated milk, 1 cup morsels, powdered sugar, baking bar and butter in medium, heavy-duty saucepan. Cook over medium-low heat, stirring occasionally, until chocolate is melted. Reduce heat to low; continue cooking, stirring occasionally, for 5 to 7 minutes or until thickened. Remove from heat. Stir in vanilla extract. Cool completely.
To Assemble: Wrap outside of 9 or 10-inch springform pan with foil. Spread 1/3 of crumbled cookies on the bottom of pan. Top with half of the ice cream and half of the chocolate sauce. Combine remaining crumbled cookies and walnut mixture in medium bowl. Spread half of the cookie-walnut mixture over chocolate sauce. Top with remaining ice cream, chocolate sauce (reserving 2 tablespoons) and cookie-walnut mixture.
Place remaining 2 tablespoons chocolate sauce in small, heavy-duty plastic bag. Cut a hole in corner of bag; squeeze to drizzle chocolate sauce over top of dessert. Freeze for at least 4 hours or overnight.
To serve, let stand at room temperature for 20 minutes. Remove side of springform pan. Cut into slices.
Makes 16 servings.
Tip: For those on the go, 1 (18-ounce) package NESTLÉ TOLL HOUSE Refrigerated Chocolate Chip Cookie Dough can be substituted for the scratch cookies. Bake as stated on package. Chop cooled cookies into small pieces.
Recipe and photograph are the property of Nestlé® and Meals.com, used with permission.