Orange Caramel Flan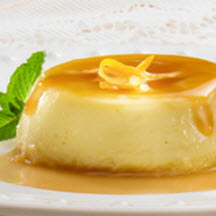 An extraordinary flan flavored with orange and served with caramel sauce.
Recipe Ingredients:
2 cups half-and-half
Zest of 2 oranges
3/4 cup granulated sugar
8 ounces Wisconsin Mascarpone cheese
1 teaspoon vanilla extract
6 large eggs
Purchased or homemade caramel sauce, enough to line 8 ramekins
Cooking Directions:
Combine half-and-half with orange zest and heat in a saucepan to infuse the orange flavor into the milk. Remove from heat, strain and cool.
When cool, combine half-and-half and remaining ingredients in a mixing bowl and whisk together until smooth.
Divide into eight (4-ounce) ramekins that are lined with caramel sauce.
Place ramekins in a water bath* and bake at 350°F (175°C) until set.
Cool before serving.
Makes 6 servings.
*Fill a large baking pan with water about 1/2-inch deep, set ramekins in the water and bake as directed.
Recipe and photograph courtesy of Wisconsin Milk Marketing Board, Inc.