Pistachio Linzer Torte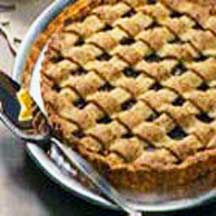 This delicious linzer torte features a rich and flavorful pistachio crust, the perfect complement to the sherried apricot and raisin filling.
Recipe Ingredients:
1 1/2 cups all-purpose flour
3/4 cup butter or margarine
1/2 cup granulated sugar
3/4 cup chopped shelled pistachios
1 teaspoon grated lemon peel
1/2 teaspoon ground cinnamon
1/4 teaspoon vanilla extract
Apricot Filling:
1 cup quartered dried apricot halves
1/4 cup raisins
1/2 cup water
1/3 cup cream sherry
Cooking Directions:
Blend flour and butter with pastry blender until texture of cornmeal. Stir in sugar, pistachios, lemon peel, cinnamon and vanilla. Pat half of pistachio mixture into 9-inch tart pan with removable bottom. Spread Apricot Filling over pastry. Roll remaining pastry between 2 pieces of waxed paper; cut into 1/2-inch strips. Form lattice of strips over filling.*
Bake in a preheated oven at 350°F (175°C) for 45 to 50 minutes or until golden. Makes one (9-inch) tart.
Apricot Filling: Combine apricots with raisins, water and cream sherry in a medium saucepan. Cook, covered, over medium heat for 15 to 20 minutes or until liquid is absorbed and fruit is very tender; stir occasionally to prevent sticking. Makes 1 cup.
Makes 8 servings.
*Lift pastry strips with spatula or long blade of knife.
Recipe and photograph provided courtesy of the California Pistachio Commission.