Praline Topped Apple Cranberry Bread Pudding
with Butter Rum Sauce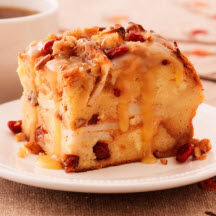 A traditional favorite with some new twists. Prepare this delicious dessert the night before and bake just before serving.
Recipe Ingredients:
Bread Pudding:
4 cups peeled and sliced Granny Smith apples (about 2 large apples)
1 cup sweetened dried cranberries
1/2 cup plus 2 tablespoons granulated sugar - divided use
1 tablespoon ground cinnamon
8 large eggs
1 cup firmly packed light brown sugar
4 cups half-and-half
1 tablespoon vanilla extract
2 teaspoons grated orange peel
1/8 teaspoon salt
16 cups Brioche or other dense white bread, cut into 1-inch cubes (about 24 slices), toasted

Praline Topping:
1/3 cup butter, softened
1 cup firmly packed light brown sugar
1 cup pecans, chopped

Butter Rum Sauce:
1 cup butter, softened
3/4 cup granulated sugar
3/4 cup firmly packed light brown sugar
1/3 cup powdered sugar
2 egg yolks
1/4 cup heavy cream
1/3 cup dark rum
Cooking Directions:
For Bread Pudding: Combine apples, dried cranberries, 2 tablespoons of the granulated sugar and cinnamon in a medium bowl. Set aside.
Combine eggs and remaining 1/2 cup granulated sugar and brown sugar in a separate medium bowl. Beat at high speed with a hand mixer 3 minutes; reduce mixer speed to low. Gradually mix in half-and-half, vanilla, orange peel and salt.
Place bread cubes in large mixing bowl.
Stir apple mixture into bread cubes, blending well. Pour beaten egg mixture over the bread mixture, mix well.
Pour bread mixture into greased 13 X 9-inch baking dish. Refrigerate, covered, for a minimum of 30 minutes or overnight.
Preheat oven to 350°F (175°C).
For Praline Topping: Combine butter, brown sugar and pecans in a small bowl.
Remove bread pudding from refrigerator; uncover. Sprinkle Praline Topping over top of bread pudding.
Bake pudding at 350°F (175°C) for 40 to 50 minutes or until knife inserted near center comes out clean. Cool 20 minutes before serving. Serve with Butter Rum Sauce, if desired.
For Butter Rum Sauce: Whisk butter and sugars in a heavy saucepan until smooth. Cook on low heat, whisking frequently, until small bubbles form around edge of mixture.
Whisk egg yolks and cream in a small bowl until blended. Whisk 1/2 cup hot butter mixture into the egg mixture. Pour mixture back into the saucepan. Continue whisking over low heat for about 5 minutes or until mixture has thickened slightly. Do not boil.
Remove from heat; stir in rum. Serve warm over bread pudding.
Makes 12 servings.
Recipe and photograph provided courtesy of Butterball®; through ECES, Inc., Electronic Color Editorial Services.