Strawberry and Ricotta Gratin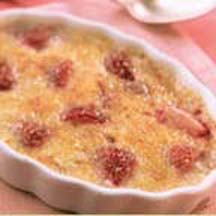 Fresh strawberries baked in a creamy, vanilla bean-infused ricotta custard. Recipe by Chef Michael Symon.
Recipe Ingredients:
1 1/2 cups whole milk ricotta cheese
1 1/2 cups milk
1 1/2 cup powdered sugar
1 1/2 vanilla beans, halved lengthwise
1 tablespoon cornstarch
3 whole eggs, separated
1 1/2 cups heavy cream
3 pints fresh strawberries, trimmed and quartered
Cooking Directions:
Line a fine-mesh sieve with cheesecloth. Set over a bowl. Place ricotta in the sieve and refrigerate for 2 hours.
Preheat oven to 350°F (175°C).
Remove the ricotta from the refrigerator and discard the liquid. Whip the ricotta. Set aside.
Bring the milk, powdered sugar, vanilla beans and cornstarch to a boil. Simmer the mixture, stirring, until the cornstarch has dissolved and the mixture has thickened. Remove from the heat. Remove the vanilla beans and discard. Whisk in the egg yolks.
In a deep, narrow bowl, whip the egg whites until stiff peaks form. In another bowl, whip the cream until stiff. Fold the egg whites, cream and ricotta into the milk mixture.
Divide the strawberries among twelve small, shallow gratin baking dishes.
Pour equal amounts of the custard mixture into each dish.
Bake for 15 to 20 minutes. Remove from the oven and heat the broiler; then place the dishes under the broiler until the gratins begin to brown. Remove and serve immediately.
Makes 6 servings.
Recipe and photograph provided courtesy of Wisconsin Milk Marketing Board, Inc.