Strawberry Macaroon Napoleons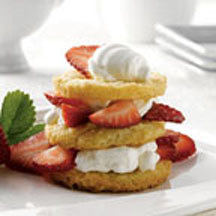 If you like coconut macaroons, whipped cream and red ripe strawberries, you are really going to love this layered dessert.
Recipe Ingredients:
Coconut Macaroons:
1 1/2 cups shredded coconut
1/3 cup granulated sugar
1 1/2 tablespoons unsalted butter, melted and cooled
1 large egg
Chantilly Cream:
1 cup heavy whipping cream
1/4 cup powdered sugar
1/2 teaspoon vanilla extract or powder or seeds from 1/2 vanilla bean
3 cups (about 1 pound) fresh California strawberries, stemmed and quartered
Sugar as needed
Cooking Directions:
To make Coconut Macaroons: Heat oven to 350°F (175°C). Grease 18 cupcake wells.
With a rubber spatula or wooden spoon, stir together coconut and sugar. Stir in butter and then eggs, mixing until combined.
Place 2 teaspoons of coconut mixture into each cupcake well. Using the back of a spoon dipped in water, press coconut mixture into the well so it completely fills the bottom.
Bake about 12 minutes or until golden brown.
Let macaroons cool in the pans. With a small sharp knife or offset spatula, loosen macaroons from the wells and remove them.
To make Chantilly Cream: Whisk cream, powdered sugar and vanilla until soft peaks form. The cream should hold its shape but still be satiny in appearance.
Gently toss prepared strawberries with enough sugar to sweeten as desired.
To Assemble Napoleons: Place 1 macaroon on each of six dessert plates. Cover each macaroon with 1/4 cup strawberries and 2 tablespoons Chantilly Cream. Repeat layering with a second macaroon, 1/4 cup strawberries and 2 tablespoons Chantilly Cream. Top with a third macaroon. Serve immediately.
Makes 6 servings.
Recipe and photograph provided courtesy of California Strawberry Commission. All rights reserved. Used with permission.