Strawberry Nachos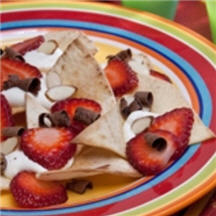 A tasty treat perfect for a fiesta, this recipe is a very, "berry" sweet and cinnamony twist on a South-of-the-Border classic — nachos!
Recipe Ingredients:
3 cups sliced strawberries
1/3 cup granulated sugar
1/4 cup Amaretto, (almond flavored liqueur)
1/2 cup regular or nonfat sour cream
1/2 cup non-dairy whipped topping, thawed if frozen
2 tablespoons granulated sugar
1/8 teaspoon ground cinnamon
6 (7-inch) flour tortillas, cut into 8 wedges
2 teaspoons cinnamon-sugar
2 tablespoons sliced almonds, toasted
2 teaspoons shaved semisweet chocolate
Cooking Directions:
Combine strawberries, 1/3 cup sugar, and amaretto in a bowl; stir well. Cover and chill 30 minutes. Drain, reserving juice for another use.
Combine sour cream, whipped topping, 2 tablespoons sugar, and cinnamon in a bowl; stir well. Cover and chill.
Arrange tortilla wedges on 2 baking sheets; lightly coat with cooking spray. Sprinkle evenly with cinnamon-sugar. Bake in a preheated oven at 400°F (205°C) for 7 minutes or until crisp. Cool on wire rack.
To serve, arrange 8 tortilla wedges on a serving plate; top with about 1/3 cup strawberry mixture and 2 1/2 tablespoons sour cream mixture. Sprinkle with almonds and chocolate.
Makes 6 servings.
Recipe and photograph provided courtesy of California Strawberry Commission. ©2003 California Strawberry Commission. All rights reserved. Used with permission.