Strawberry and Banana Trifle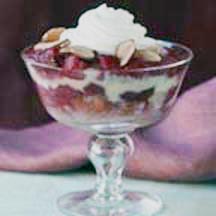 Strawberries and bananas, a favorite flavor combo, star in this tasty trifle dessert.
Recipe Ingredients:
1 (14-ounce) can sweetened condensed milk
1 1/2 cups cold water
1 (3.5-ounce) package instant vanilla pudding mix
2 cups whipping or heavy cream, whipped
2 bananas, chopped
1 (12-ounce) ready-made pound cake, diced
4 cups unsweetened sliced strawberries
1/2 cup strawberry jam
2 tablespoons slivered almonds
Cooking Directions:
Combine sweetened condensed milk and cold water in a bowl. Add instant vanilla pudding mix and beat well. Chill for 5 minutes.
Cut pound cake into bite-size pieces. Chop bananas. Slice strawberries.
Meanwhile, beat cream until stiff. Fold into the pudding mixture along with bananas.
In 6 indiviual serving dishes, layer pudding, pound cake, strawberries, and strawberry jam. Repeat the layers; garnish with reserved strawberries and slivered almonds.
Makes 6 servings.
Recipe and photograph provided courtesy of California Strawberry Commission. ©2003 California Strawberry Commission. All rights reserved. Used with permission.