Sweet Potato Cheesecake by Galatoire's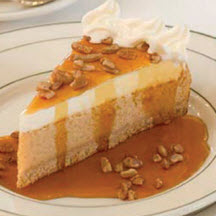 The recipe for this spectacular sweet potato cheesecake was created by Galatoire's Restaurant in New Orleans.
Recipe Ingredients:
Crust:
1 1/2 cups graham cracker crumbs
1/4 cup granulated sugar
1/3 cup butter or margarine, melted

Filling:
3 (3-ounce each) packages cream cheese, softened
1 cup granulated sugar
1/4 cup packed light brown sugar
1 3/4 cups mashed sweet potatoes
2 large eggs, slightly beaten
2/3 cup evaporated milk
2 tablespoons cornstarch
1/4 teaspoon ground cinnamon
1/8 teaspoon ground nutmeg

Topping:
2 cups sour cream, room temperature
1/3 cup granulated sugar
1 teaspoon vanilla extract
Cooking Directions:
Preheat oven to 350°F (175°F).
For Crust: In a medium bowl, mix graham cracker crumbs, sugar and butter until combined. Press onto bottom and 1-inch up side of a 9-inch springform pan. Bake until set but not brown, 6 to 8 minutes. Remove from oven, and cool.
For Filling: Beat cream cheese with electric mixer until smooth. Add sugar and brown sugar, beating until smooth. Add sweet potatoes, eggs, evaporated milk, cornstarch, cinnamon and nutmeg, beating until well combined. Pour into crust. Bake until edge is set, 55 to 60 minutes.
For Topping: Whisk sour cream, sugar and vanilla to combine. Spread over warm cheesecake. Return to oven, and bake until just set, 5 minutes. Cool on wire rack. Remove side of pan, and chill for a few hours or overnight.
Makes 12 servings.
Recipe and photograph courtesy of Louisiana Sweet Potato Commission. Created by Galatoire's Restaurant, New Orleans.