Sweet Potato Flan 2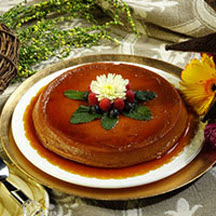 A make-ahead, low-fat and richly flavorful spiced yam custard in caramelized syrup that is perfect for entertaining.
Recipe Ingredients:
1/2 cup granulated sugar
1 (15-ounce) can sweet potatoes (yams), drained and mashed or 1 cup mashed sweet potatoes
1/4 teaspoon ground cinnamon
1/8 teaspoon grated or ground nutmeg
1 (12-ounce) can fat free evaporated milk
1 (14-ounce) can fat free sweetened condensed milk
3 large eggs
2 large egg whites
1 tablespoon vanilla extract
Cooking Directions:
Preheat oven to 325°F (160°F).
Place sugar in a heavy saucepan. Cook over medium heat until sugar dissolves, stirring frequently, for about 5 minutes. Immediately pour into a 9-inch round cake pan coated with nonstick cooking spray, tipping pan quickly until caramelized sugar coats bottom of pan.
In food processor or mixer, mix together sweet potatoes, cinnamon, nutmeg, evaporated milk, sweetened condensed milk, eggs, egg whites and vanilla until blended. Pour into prepared pan. Place in baking dish large enough to hold the 9-inch round pan and add hot water to dish until one inch deep.
Carefully place in oven and bake for one hour to one hour 15 minutes or until knife inserted in center comes out clean.
Remove pan from water, cool pan completely on a wire rack.
Cover and refrigerate for at least 3 hours.
Loosen edge of flan with a knife and invert flan on larger serving plate. Pour the remaining caramelized syrup over the flan.
Makes 8 servings.
Nutritional Information Per Serving (1/8 of recipe): CAL 253 (6% from fat); FAT 2g; PROTEIN 9g; CARB 50g; CHOL 67mg; SODIUM 127mg; SATURATED FAT 1g; DIETARY FIBER 1g.
Recipe and photograph provided courtesy of Louisiana Sweet Potato Commission. Created by Louisiana Sweet Potato Commission spokesperson, Holly Clegg.