Torte De Nocce D'aosta (Italian Walnut Torte)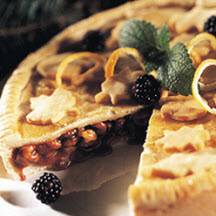 This elegant walnut torte is excellent with vanilla ice cream. Recipe by Chef Rhys Lewis.
Recipe Ingredients:
1 cup butter
2 1/2 cups granulated sugar - divided use
1 large egg
2 3/4 cups all-purpose flour
1 egg white, lightly beaten
1 cup whipping cream
2 1/2 cups broken walnuts
Cooking Directions:
For Dough: Place the butter in a mixing bowl and beat until light and fluffy. Stir in 1/2 cup sugar and the egg, stirring until the ingredients are incorporated. Gradually fold in the 2 3/4 cups flour; refrigerate the dough for at least 30 minutes.
For Filling: Place two cups of the sugar in a heavy-bottom skillet or sauce pot. Over medium heat, stir the sugar with a long-handled wooden spoon until it dissolves. It will soon begin to turn brown and bubble. Allow the color to develop to a deep caramel color, stirring for even cooking. Add the cream all at once while stirring with the wooden spoon. Use caution when adding the cream, because it will create steam when poured into the hot sugar. Stir in the walnuts and allow to cool to room temperature.
To Assemble: Roll out 2/3 of the dough on a lightly floured surface and place in a 9 or 10-inch spring form pan. Make sure that the dough covers the sides of the pan at least one inch from the bottom. Spoon in the walnut caramel mixture and spread it evenly in the pan.
Roll out the remaining dough on a lightly floured surface and place on top of the caramel mixture. Seal the edges of the torte with water and vent with the prongs of a fork.
Use reserved dough scraps to decorate the torte.
Brush lightly with the egg white and bake in a 350°F (175°C) oven for 45 minutes or until golden brown.
Allow to cool to room temperature and remove from the spring form pan.
Cut with a serrated knife to serve.
Makes 8 servings.
Recipe and photograph provided courtesy of Wisconsin Milk Marketing Board, Inc.