White Cheddar Puffs
with Cranberry Cream Cheese Filling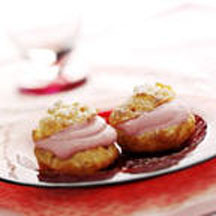 Savory cheddar puffs are filled with a festive cranberry cream cheese. Recipe by Chef Nathan Berg.
Recipe Ingredients:
Puffs:
1 cup water
1/2 cup (4 ounces / 1 stick) butter, cubed
1 tablespoon granulated sugar
Pinch of salt
1 cup all-purpose flour
4 large eggs
1 1/2 cups (6 ounces) Wisconsin Aged (sharp) White Cheddar cheese, shredded
Filling:
1 cup water
1 cup granulated sugar
3 cups fresh or frozen cranberries
2 cups (1 pound) cream cheese, at room temperature
Cooking Directions:
For Puffs: Preheat oven to 450°F (230°C).
Bring water, butter, sugar and salt to boil in heavy-bottomed saucepan. Remove pan from heat and add flour and beat until mixture forms a mass and leaves the sides of the pan. Rest the dough for 5 minutes.
Transfer dough to bowl of food processor. Process with metal blade for a few seconds. Add eggs and process for 1 minute, stopping to scrape down sides. Mixture will be shiny and stiff.
Add the cheddar and pulse just until incorporated.
Line baking sheets with parchment paper or silicone.
Drop dough by rounded tablespoons* onto sheet (about 1 1/4-inch rounds).
Bake on middle rack of oven for 7 minutes. Rotate sheet and turn down oven to 400°F (205°C). Bake for 13 to 15 minutes, until puffs have risen and are golden brown. Remove to racks and cool.
For Filling: Meanwhile, make the filling. Make a simple syrup by combining water and sugar in saucepan and bringing to full boil. Remove from heat.
Place cranberries on greased baking sheet with sides and roast in 400°F (205°C) oven for about 10 minutes, until the berries release their juice.
Mix the berries with the simple syrup and transfer to blender beaker. Blend on high speed for 2 minutes.
Pass mixture through fine sieve and cool slightly.
Mix cranberry mixture and cream cheese.
Split the puffs to form a base and lid. Fill base with about 2 tablespoons of the cranberry mixture and top with lid. Dust with powdered sugar, if desired.
Makes 36 to 40 puffs.
*You may place the dough in a pastry bag with 3/4-inch tip and pipe onto baking sheets, if preferred.
Recipe and photograph provided courtesy of Wisconsin Milk Marketing Board, Inc.