Banana Cream Angel Bites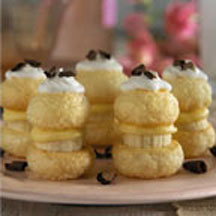 A uniquely satisfying, diabetic-friendly and indulgent guilt-free dessert.
Recipe Ingredients:
Angel Bites:
5 large egg whites
1/3 cup Splenda® Granulated No Calorie Sweetener
1 1/2 teaspoons vanilla extract
1 pinch salt
Banana Cream Filling:
1/2 cup egg substitute
1 cup LACTAID® Fat Free Milk
1 teaspoon vanilla extract
2 tablespoons light butter
1 tablespoon cornstarch
1/4 cup Splenda® Granulated No Calorie Sweetener
1 teaspoon banana flavor
2 bananas, sliced
2 tablespoons semisweet chocolate chips
Cooking Directions:
Preheat oven to 350°F (175°C). Lightly oil a 13x11 inch-baking sheet. Set aside.
Make Angel Bites: Place egg whites in a medium mixing bowl. Whip on high speed using an electric beater or wire whisk until frothy.
Add Splenda® Granulated Sweetener, vanilla and salt. Mix on high speed until medium-stiff peaks form (approximately 20 to 30 seconds).
Spoon rounded tablespoons of egg white mixture onto prepared baking sheet. Bake in preheated 350°F (175°C) oven 10 to 15 minutes or until golden brown. Remove from pan. Cool.
Make Filling: Place egg substitute, LACTAID® Fat Free Milk, vanilla and light butter in a small saucepan. Blend Splenda® Granulated Sweetener and cornstarch together and add to ingredients in the saucepan. Stir well. Cook over medium heat, stirring constantly, until the mixture begins to thicken and bubble (approximately 3 to 4 minutes).
Remove filling from heat and add banana flavor. Stir until well mixed. For an extra creamy filling, pour into the bowl of a food processor or blender. Cover and process until very creamy (approximately 10 seconds). Pour filling into a bowl and refrigerate at least 20 minutes or until ready to serve.
Assemble Angel Bites. Just before serving, sandwich Angel Bites with filling. Place three Angel Bites on a plate with the bottoms facing up. Top each with sliced banana and a spoonful of filling. Stack another Angel Bite on top. Repeat for each serving.
Garnish with a dollop of whipped cream and chocolate shavings.
Makes 5 servings. Serving Size: 3 prepared angel bites.
Tip: If egg whites start to separate, whisk them back together using a wire whisk.
Nutritional Information Per Serving (1/5 of recipe; 3 prepared angel bites): Calories 90 | Calories from Fat 20 | Fat 2.0g (sat 0g) | Cholesterol 0mg | Sodium 140mg | Carbohydrates 14g | Fiber 2g | Sugars 8g | Protein 4g.
Recipe and photograph courtesy of Splenda, Inc. Splenda® is a no-calorie sweetener made from sugar that is suitable for diabetics. For more information regarding this product, please call 1-800-777-5363 or visit their website at www.splenda.com.