Blueberry Cheesecake for Carb Counters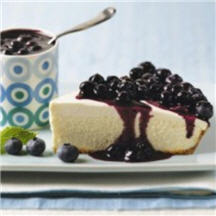 This luscious cheesecake, topped with blueberry sauce, proves that counting carbs doesn't mean that delicious tasting desserts can't be part of the equation.
Recipe Ingredients:
2 tablespoons dry bread crumbs*
3 (8-ounce) packages cream cheese
2 large eggs
2 tablespoons milk
2/3 cup granulated non-nutritive sweetener
1 tablespoon vanilla extract

Sour Cream Topping:
1 cup sour cream
1/4 cup granulated non-nutritive sweetener
1/2 teaspoon vanilla extract

Blueberry Sauce:
2 cups fresh or frozen blueberries
2 tablespoons granulated non-nutritive sweetener
1 tablespoon lemon juice
1 tablespoon water
Cooking Directions:
Preheat oven to 375°F (190°C).
Spray bottom and side of a 9-inch pie plate with vegetable cooking spray; sprinkle with bread crumbs and tilt to cover evenly.
In a large bowl, with an electric mixer, beat cream cheese, eggs, milk, granulated sweetener and vanilla until smooth.
Carefully pour into crumb-coated pie plate and smooth the top.
Bake until set in the center, 18 to 20 minutes.
Cool 10 minutes, then spread the Sour Cream Topping over the top and bake 7 minutes longer.
Cool to room temperature on a wire rack, then refrigerate until cold. Serve with Blueberry Sauce.
For Sour Cream Topping: Stir together all ingredients in a small bowl until well blended.
For Blueberry Sauce: Combine all the ingredients in a medium-size saucepan, and cook over medium heat until berries are soft, about 5 minutes. Chill well before serving over the cheesecake.
Makes 8 servings.
*Bread crumbs are optional. If made without bread crumbs, subtract 1 gram carbohydrate per portion.
Nutritional Information Per Serving (1/8 of portion of cheesecake, including 1 1/2 tablespoons blueberry sauce): 413 calories; 13 g carbohydrate; 36 g total fat (22 g saturated fat); 1 g fiber.
Recipe and photograph are courtesy of the US Highbush Blueberry Council. Used with permission.