Fruit-Stuffed Pork Tenderloin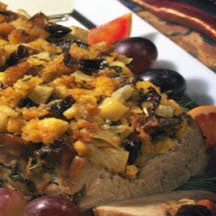 Great for company, whole pork tenderloin is split and filled with a mixture of cornbread stuffing, chopped apple, prunes, onion and spices. The stuffing is also great in split thick lean pork chops.
Recipe Ingredients:
1/3 cup chopped onion
1 clove garlic, minced
1 tablespoon margarine
1 small tart apple, peeled, cored, finely chopped
1/4 cup chopped pitted prunes
1/4 cup dry white wine or unsweetened apple juice
1 teaspoon Equal® for Recipes or 3 packets Equal® sweetener or 2 tablespoons Equal® Spoonful™
3/4 teaspoon dried rosemary leaves
3/4 teaspoon dried thyme leaves
1/4 cup cornbread stuffing crumbs
Salt and pepper, to taste
1 whole pork tenderloin (about 1 pound)
1 clove garlic, minced
Cooking Directions:
Sauté onion and 1 clove garlic in margarine in medium skillet until tender, about 5 minutes. Add apple and prunes and cook 2 to 3 minutes. Add wine, Equal¨, and 1/2 teaspoon each rosemary and thyme; cook, covered, over medium heat until wine is evaporated, about 5 minutes. Stir in stuffing crumbs; season to taste with salt and pepper.
Cut a lengthwise slit, about 2-inches deep, in the pork tenderloin. Mix remaining herbs and 1 clove garlic; rub over outside surfaces of pork. Spoon fruit stuffing into pork and place in baking pan.
Roast meat, uncovered, in preheated 350°F (180°C) oven until no longer pink in the center (meat thermometer will register 160°F | 70°C), about 45 minutes. Let stand 5 to 10 minutes before slicing.
Makes 4 servings.
Tip: The stuffing can also be used to stuff lean pork chops; cut pockets in chops with a sharp knife, or have a butcher cut the pockets for you.
Nutritional Information Per Serving (1/4 of recipe): 243 cal., 25 g pro., 18 g carbo., 7 g fat, 74 mg chol., 117 mg sodium.
Food Exchanges: 1 fruit, 3 lean meat.
Recipe and photograph provided courtesy of Merisant Corporation ® and the NutraSweet Company, makers of Equal®.