Duck Breast with Tahitian Pomegranate Chutney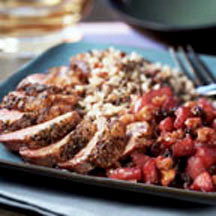 For a great holiday dinner, consider serving duck instead of chicken or turkey.
Recipe Ingredients:
For the Tahitian Pomegranate Chutney:
1 cup 100 percent pomegranate juice
2 tablespoons sugar
1 teaspoon Nielsen-Massey Tahitian Pure Vanilla Extract
1/2 teaspoon balsamic vinegar
1 tart apple, peeled and diced (about 1 cup)
1 Bosc pear, peeled and diced (about 1 cup)
1/2 cup coarsely chopped walnuts
1/2 cup raisins
For the Duck Breast:
4 duck breasts
salt and freshly ground pepper
Cooking Directions:
For the chutney, combine the juice, sugar, vanilla extract and vinegar in a large saucepan. Cook over medium heat until sugar is dissolved, stirring frequently. Add the apple, pear, walnuts and raisins. Cook for five to eight minutes or until the fruit is tender, stirring frequently.
For the duck, preheat the oven to 400°F (205°C). Score the skin of each duck breast at a 45-degree angle approximately four times. Season with salt and pepper.
Preheat a large sauté pan over medium-high heat. Coat with nonstick cooking spray. Place the duck breasts skin side down in the pan. Sear for four minutes. Turn and sear for an additional two minutes.
Place a wire rack in a 9x13x2-inch roasting pan and coat the rack with nonstick cooking spray. Place the duck on the rack. Roast for 10 to 15 minutes or to the desired degree of doneness.
Plate with the Tahitian Pomegranate Chutney and wild rice.
Makes 4 servings.
Recipe and photograph provided courtesy of Nielsen-Massey; through ARA Content.