Grilled Squab with
Vidalia Empanitos and Nectarine Marmalade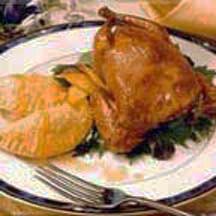 This deliciously elegant entrée is the epitome of fine dining and quite worth the effort to prepare it. Grilled marinated squab served with Vidalia empanitos, miniature pastry turnovers filled with a caramelized onion filling, drizzled with a luscious rosemary and cinnamon-scented nectarine marmalade.
Recipe Ingredients:
For Squab:
6 young squab, cleaned and plucked (about 1 pound each)
1/2 cup olive oil
1/4 cup barbecue sauce
2 tablespoons orange juice
1 tablespoon honey
1 tablespoon fresh rosemary
11/2 teaspoons Worcestershire sauce
1/4 teaspoon hot sauce
For Nectarine Marinade:
8 ripe nectarines
1 1/2 tablespoons honey
1 1/2 tablespoons orange zest
1 1/2 tablespoons vinegar
1 1/2 teaspoons fresh rosemary
1 (1 1/2-inch) cinnamon stick
1 1/2 tablespoons corn starch
1 tablespoon cold water
For Empanitos:
2 1/2 cups all-purpose flour
1/2 teaspoon salt
1/4 teaspoon cayenne powder
3/4 cup vegetable shortening
6 tablespoons cold water
1 large egg, beaten
For Vidalia Filling:
2 large sweet Vidalia onions, diced*
1 tablespoon extra virgin olive oil
1 tablespoon Worcestershire sauce
1 tablespoon lime juice
1/4 teaspoon hot sauce
Cooking Directions:
For Grilled Squab: Whisk together all ingredients except squab. Pour mixture over squab; cover, refrigerate and marinate overnight. Grill squab until medium and golden brown.
For Nectarine Marinade: Using juicer, extract juice from 12 nectarines; add honey, orange zest, vinegar, rosemary and cinnamon stick. Bring to a boil, adding corn starch and water mixture. Simmer very briefly. Slice four remaining nectarines. Add to warm mixture; let cool to room temperature.
For Empanitos: Cut shortening into dry ingredients until mixture resembles coarse cornmeal. Sprinkle cold water, a tablespoon at a time, and mix lightly with a fork. When pastry holds together, press into a bag and chill for at least 30 minutes. Roll dough to 1/16-inch thick and cut into small circles. Wet edges with beaten egg. Add enough onion filling to make plump. Fold over and seal with fork tines. Brush top with beaten egg and back at 350°F (175°C) until golden.
For Vidalia Filling: Slowly sauté diced onions in olive oil until golden. Add remaining ingredients, combine and cool to room temperature. Use to fill empanitos.
Serve squab over a small bed of red oak lettuce, arrange 2 to 3 empanitos alongside. Drizzle nectarine marmalade over empanitos.
Makes 6 servings.
*Maui or Walla Walla onions may be substituted.
Recipe and photograph provided courtesy of The Association For Dressings and Sauces.