Asian-Style Cherry Buns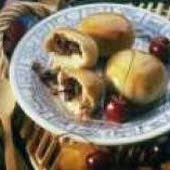 Asian-style Cherry Buns are perfect for picnics. They pack well and taste great served hot or at room temperature. They also make an interesting addition to Sunday brunch. Make an extra batch of Asian-style Cherry Buns to store in the freezer. The sweet cherries inside will be a warm reminder of summer when you serve them in September.
Recipe Ingredients:
1 (16-ounce) package hot roll mix
1/2 pound ground turkey (or ground pork, chicken or beef)
1/2 cup chopped onion
1 tablespoon vegetable oil
1 cup chopped Northwest fresh sweet cherries
1/2 cup chopped water chestnuts
2 tablespoons each soy sauce and packed brown sugar
1 teaspoon Worcestershire sauce
1/2 teaspoon each garlic salt, ground ginger and cornstarch
2 tablespoons honey
1 tablespoon lemon juice
Cooking Directions:
Prepare hot roll dough according to package directions.
Stir-fry turkey and onion in oil until turkey is browned and onion softened; stir in cherries, water chestnuts, soy sauce, sugar, Worcestershire sauce, garlic salt, ginger and cornstarch. Remove from heat and cool to room temperature.
Cut dough into 20 pieces. Flatten into 4-inch rounds. Place 1 tablespoon filling in center of each; gather edges and seal. Place sealed-side down on greased baking sheet.
Bake in a preheated oven at 350°F 12 to 15 minutes or until golden brown. Combine honey and lemon juice; brush on hot rolls.
Makes about 20 servings.
Recipe provided courtesy Washington State Fruit Commission.