Bacon-Wrapped Pork Meatloaf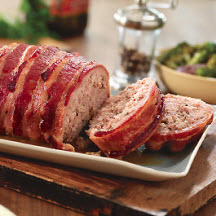 Serve this moist and flavorful meatloaf with Sour Cream Smashed Potatoes and a colorful side of roasted vegetables such as broccoli, Brussels sprouts or asparagus.
Recipe Ingredients:
2 pounds ground pork*
2 large eggs
1/2 cup skim milk
2 tablespoons Dijon-style mustard, (grainy or non-grainy, depending on preference)
1 tablespoon Worcestershire sauce
1 teaspoon kosher salt
1/2 teaspoon freshly ground black pepper
3/4 cup bread crumbs
1/4 cup Italian (flat-leaf) parsley, chopped (or 2 tablespoons dried parsley)
8 strips bacon (apple-smoked bacon preferred)
Cooking Directions:
Preheat the oven to 400°F (205°C). Line a baking pan with a few layers of aluminum foil and set aside.
In a large bowl, add the eggs, milk, mustard, Worcestershire, salt, and pepper. Whisk until everything is evenly combined. Add the ground pork, bread crumbs and parsley. Mix until combined.
Transfer the meat to the prepared baking sheet and form it into a 9x5-inch loaf. Arrange the bacon across the top of the meatloaf and bake for about 55 to 65 minutes until the internal temperature of the meatloaf reaches 160°F (71.1°C), on an instant read thermometer.
Remove from the oven to a cutting board and let cool for 10 to 15 minutes before slicing and serving.
Makes 8 servings.
*Please note that coarse ground pork is recommended for better texture.
Tip: Add color to your plate with a side of roasted vegetables such as broccoli, Brussels sprouts or asparagus.
Nutritional Information Per Serving (1/8 of recipe): Calories: 400; Total Fat: 28g; Saturated Fat: 10g; Cholesterol: 140mg; Total Carbs: 9g; Fiber: 1g; Protein: 25g; Sodium: 630mg.
Recipe and photograph provided courtesy of Pork, Be Inspired®.