Barley and Beef Stuffed Bells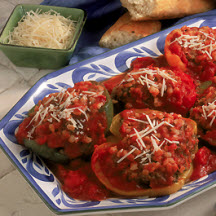 Recipe courtesy of the National Barley Foods Council.
Recipe Ingredients:
1 pound ground beef
1/4 cup finely chopped onion
3 tablespoons Italian seasoned bread crumbs
2 tablespoons freshly grated Parmesan cheese
1 large egg, beaten
1 teaspoon salt
1 teaspoon ground black pepper
1 1/2 cups cooked pearl barley (see cooking directions below)
3 bell peppers, cut in half and seeded
2 (26-ounce) jars prepared pasta sauce
Additional freshly grated Parmesan cheese (optional)
Cooking Directions:
In large bowl, combine ground beef, onion, bread crumbs, freshly grated Parmesan cheese, egg, salt, pepper and cooked barley.
Divide beef-barley mixture into 6 portions. Press each portion into bell pepper half, forming mixture to the shape of the pepper.
Spray a 13x9x2-inch-inch baking dish with non-stick cooking spray. Place filled pepper halves in dish. Pour pasta sauce over peppers. Cover tightly with aluminum foil.
Preheat oven to 375°F (190°C).
Bake peppers for 1 hour and 15 minutes
To serve, arrange peppers on platter, spooning a portion of the sauce over each pepper. Pour remaining sauce from baking dish into container to serve at the table. Garnish baked peppers with additional grated cheese, if desired, and serve.
Makes 6 servings.
To Cook Barley: In medium saucepan with lid, bring 3 cups water to a boil. Add 1 cup pearl barley and return to boil. Reduce heat to low, cover and cook 45 minutes or until barley is tender and liquid is absorbed. Makes about 3 to 3 1/2 cups.
Nutritional Information Per Serving (1/6 of recipe): Calories: 436; Total Fat: 17g; Cholesterol: 88mg; Total Carbs: 47g; Fiber: 9g; Protein: 23g; Sodium: 2168mg.
Recipe and photograph courtesy of the National Barley Foods Council.