Beef Spaghetti Pie Olé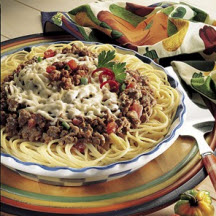 Two types of cheeses, Monterey Jack and cheddar, plus garlic, cumin and tomatoes with green chilies add a southwestern twist of flavor to this tasty ground beef spaghetti pie.
This recipe is an excellent source of protein, niacin, vitamin B6, vitamin B12, iron, selenium and zinc; and a good source of fiber.
Recipe Ingredients:
Pasta Shell:
1 (7-ounce) package uncooked spaghetti
1/3 cup shredded Monterey Jack or cheddar cheese
1 large egg
1/2 teaspoon salt
1/4 teaspoon garlic powder
Filling:
1 pound ground beef
1 teaspoon garlic powder
1/2 teaspoon salt
1/2 teaspoon ground cumin
1 (10-ounce) can diced canned tomatoes with green chilies, undrained
3/4 cup light dairy sour cream
1 cup shredded Monterey Jack or cheddar cheese
Cooking Directions:
For Pasta Shell: Cook pasta according to package directions; drain well. In large bowl, whisk together remaining ingredients. Add pasta; toss to coat. Arrange pasta in 9-inch pie dish, pressing down and up side to form shell; set aside.
Preheat oven to 350°F (175°C).
For Filling: Meanwhile, heat large nonstick skillet over medium heat until hot. Add ground beef; cook 8 to 10 minutes, breaking up into 3/4-inch crumbles and stirring occasionally. Remove drippings. Stir in 1 teaspoon garlic powder, 1/2 teaspoon salt and cumin. Stir in tomatoes. Bring to a boil; cook 3 to 5 minutes or until liquid is almost evaporated, stirring occasionally.
Reserve 2 tablespoons beef mixture for garnish. Stir sour cream into remaining beef; spoon into pasta shell. Place 1 cup cheese in center, leaving 2-inch border around edge. Spoon reserved beef mixture onto center of cheese; bake in 350°F (175°C) oven 15 minutes or until heated through.
To serve, cut into wedges.
Makes 4 servings.
Test Kitchen Tips:
Cooking times are for fresh or thoroughly thawed ground beef.
Ground beef should be cooked to an internal temperature of 160°F (71.1°C).
Color is not a reliable indicator of ground beef doneness.
Nutritional Information Per Serving (1/4 of recipe): 652 calories; 32 g fat (16 g saturated fat; 1 g monounsaturated fat); 177 mg cholesterol; 1069 mg sodium; 46 g carbohydrate; 3 g fiber; 42 g protein; 8.6 mg niacin; 0.5 mg vitamin B6; 2.9 mcg vitamin B12; 4.9 mg iron; 59.3 mcg selenium; 7.3 mg zinc.
Recipe and photograph courtesy of The Beef Checkoff.