Beef Summer Sausage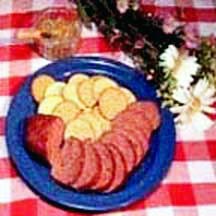 Homemade beef summer sausage...so good they won't believe you made it yourself!
Recipe Ingredients:
2 pounds lean ground beef
1 teaspoon black pepper
1/2 teaspoon garlic powder
1 tablespoon liquid smoke
1 tablespoon mustard seed
1 tablespoon Morton's Tender Quick Salt
3/4 cup water
Cooking Directions:
Combine all ingredients. Divide mixture in half and place each half on a sheet of foil. Shape the mixture into logs (like salami) and roll up in the foil.
Refrigerate overnight or up to 24 hours.
Remove from foil, lay on wire rack on cookie sheet and bake at 350°F (175°C) for one hour.
Re-wrap in foil and refrigerate or freeze until ready to serve.

Makes 2 (1-pound) logs.
Tip: Use a spicy mustard as a dipping sauce.
Recipe and photograph courtesy of The Beef Checkoff.