BLT Burgers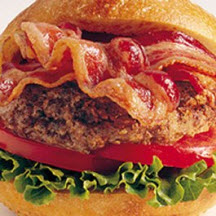 Burgers combined with ingredients of a summertime favorite sandwich, the BLT. Have young cooks help with seasoning these burgers and putting together finished sandwiches.
Recipe Ingredients:
3/4 pound ground pork
1/2 teaspoon black pepper
1 teaspoon garlic powder
1/4 teaspoon salt
8 slices crisp-cooked smoked bacon
4 large lettuce leaves
4 tomato slices
4 toasted Kaiser rolls or sandwich buns, toasted
Mayonnaise or mustard, as desired
Cooking Directions:
Mix first 4 ingredients and shape into 4 patties, about 1/2-inch thick.
Grill or broil for 4 minutes on each side.
Place patties on bottom half of toasted Kaiser rolls or sandwich buns. Layer on 2 slices bacon, lettuce and tomato. Top with remaining half of bun, spread with mayonnaise or mustard, if desired.
Makes 4 servings.
Recipe and photograph provided courtesy of Pork, Be Inspired®.