California Sage and Olive Meatloaf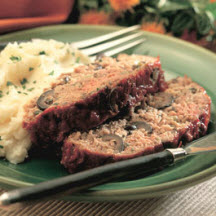 Recipe courtesy of California Ripe Olives.
Recipe Ingredients:
1 teaspoon olive oil
1 1/2 cups diced yellow onion
1/2 cup diced celery
1 tablespoon minced garlic
2 1/2 tablespoons chopped sage
1 teaspoon chopped thyme
1/2 cup dry bread crumbs
1/2 cup low-fat milk
1 1/4 pounds ground beef
3/4 pound ground pork
1 large egg, beaten
1 cup sliced olives
2 tablespoons Dijon mustard
3/4 teaspoon kosher salt
1/4 teaspoon ground pepper
1/3 cup ketchup
1 teaspoon Worcestershire sauce
Cooking Directions:
Heat olive oil in a medium-sized sauté pan. Add onions and celery and cook for 4 to 5 minutes until tender. Stir in garlic, sage and thyme and continue cooking for 1 minute, then remove from heat and set aside to cool slightly.
In a small mixing bowl combine bread crumbs and milk. Set aside for 2 to 3 minutes.
In a large mixing bowl, mix together ground beef and pork with onion and bread crumb mixtures. Stir in egg, olives, mustard, salt and pepper.
Form into a 10x5-inch loaf shape on a lightly greased baking sheet.
In a small bowl, mix together ketchup and Worcestershire sauce.
Brush the top of the meatloaf with ketchup mixture.
Bake in a preheated 350°F (175°C) oven for 55 to 60 minutes until firm and lightly browned.
Allow to rest for 5 to 10 minutes before slicing.
Makes 6 servings.
Recipe and photograph courtesy of California Ripe Olives.