Cheesy Sloppy José Beefy Taco Cups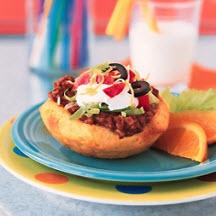 This recipe was a finalist in the 'Handheld Kid Pleasers' category of the 2003 National Beef Cook-Off.
Recipe Ingredients:
1 (20-ounce) container fully-cooked seasoned ground beef with taco sauce
1 (17.3-ounce) package refrigerated grand corn or buttermilk biscuit dough
1/2 cup canned sloppy Joe sauce
3/4 cup shredded Mexican four-cheese blend
Toppings:
1 1/2 cups thinly sliced lettuce
1/2 cup chopped tomato
1/4 cup shredded Mexican four-cheese blend
1/2 cup dairy sour cream
1/4 cup sliced ripe olives
Cooking Directions:
Preheat oven to 350°F (175°C). Separate biscuits and press each into a 3 1/2-inch circle. Place over the underside of muffin cups from a standard-sized muffin pan, pressing around cup to shape into a bowl.
Bake in a preheated 350°F (175°C) oven 12 to 15 minutes or until browned. Remove baked cups to platter.
Meanwhile, combine taco sauce with ground beef and Sloppy Joe sauce in medium saucepan; cook over medium heat 6 to 8 minutes or until hot and bubbly, stirring occasionally. Stir in 3/4 cup cheese.
Spoon beef mixture evenly into cups. Top evenly with lettuce, tomato and 1/4 cup cheese. Top with sour cream and olives.
Makes 4 servings.
Recipe and photograph provided courtesy of Beef It's What's For Dinner.