Chili-Topped Fried Idaho® Potatoes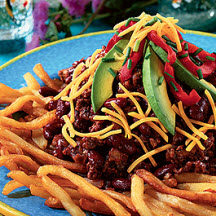 Who doesn't love chili fries? Having friends over to watch the big game? Increase the recipe as needed to feed a crowd.
Recipe Ingredients:
Chili:
8 ounces 90% lean ground beef
1 large onion, chopped
2 teaspoons minced garlic
1 (8-ounce) can tomato sauce
1 tablespoon cider vinegar
1 to 2 tablespoons chili powder (to taste)
1 (15-ounce) can red kidney beans, drained
1/4 teaspoon salt
Potatoes:
1/2 of 26-ounce package frozen shoestring Idaho® potatoes
2 tablespoon olive oil
Optional Toppings:
2 green onions, chopped
1 jalapeño pepper, seeded and minced
1 cup canned baby corn
1 small red pepper, seeded and chopped
Cooking Directions:
For Chili: Over medium-high heat, in a medium stock pot, cook the beef, onion and garlic for 5 minutes, or until meat is no longer pink. Add remaining ingredients and simmer 5 more minutes. (Chili can be made ahead of time and refrigerated; reheat before serving.)
For Potatoes: Over medium-high heat, in a large non-stick skillet, heat olive oil until hot. Carefully add the frozen potatoes. Cook potatoes, stirring and lifting the bottom ones so they all cook evenly, for 10 minutes
Reduce the heat to medium-low. Oil the bottom of a large Dutch oven or soup pot; place the pot on top of the potatoes to weight them down (place something in the pot to serve as a weight--a brick or two works well). Cook potatoes, weighted, for another 4 minutes
Remove brick and soup pot; invert potatoes onto a serving platter. Top potatoes with the hot chili. Garnish with your choice of toppings.
Makes 4 servings.
Nutritional Information Per Serving (1/4 of recipe): Calories: 495; Total Fat: 22g; Cholesterol: 53mg; Total Carbs: 52g; Protein: 24g; Sodium: 819mg.
Recipe and photograph courtesy of the Idaho Potato Commission.