Cincinnati Chili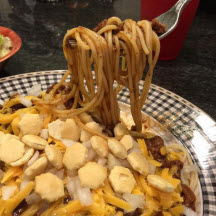 Cincinnati folk traditionally serve their unique chili concoction over spaghetti topped with chopped onion, shredded cheddar cheese and crispy oyster crackers.
Recipe Ingredients:
Chili:
1 tablespoon vegetable oil
2 medium onions, finely chopped
2 cloves garlic, minced
2 pounds lean ground beef
4 cups beef broth
1 (15-ounce) can tomato sauce
1 teaspoon ground allspice
3 tablespoons chili powder
1/4 teaspoon cayenne pepper
1 teaspoon ground cumin
1 teaspoon all-purpose flour
2 tablespoons water
1 bay leaf
1/8 teaspoon ground cloves
2 tablespoons cider vinegar
1 1/2 tablespoons unsweetened cocoa powder
1/2 tablespoon vegetable oil
1 teaspoon kosher or sea salt, or to taste
Freshly ground pepper to taste
Spaghetti pasta, cooked according to package directions
Toppings:
Onion, chopped
Cheddar cheese, shredded
Oyster crackers
Cooking Directions:
In large cooking pot, sauté onions and garlic in vegetable oil until onion has softened. Remove onion mixture from pot and set aside.
In same cooking pot add the ground beef, cook and drain. Return onion and garlic to cooking pot and add 4 cups water, beef base, tomato sauce and allspice. Cook over low heat 30 minutes.
In a small bowl, make a thin paste with the chili powder, cayenne pepper, cumin, flour and 2 tablespoons water. Add to the beef mixture and stir well. Add bay leaf, ground cloves, vinegar, cocoa mixed with the 1/2 tablespoon oil, salt and pepper Bring to a boil. Reduce heat, cover and simmer for at least 1 hour, stirring occasionally. Add more water if chili becomes too thick and begins to stick to bottom of the pot.
To serve Cincinnati Chili in the traditional manner, ladle over cooked spaghetti pasta and top with the shredded cheese, chopped onions and oyster crackers.
Makes 8 servings.
Variation: If desired, 1 (16-ounce) can of kidney or pinto beans, drained and rinsed, can be added at the end of the cooking time.
Nutritional Information Per Serving (1/8 of recipe; toppings not included.): 409.3 calories; 62% calories from fat; 27.9g total fat; 86.3mg cholesterol; 1027.3mg sodium; 698.7mg potassium; 16.8g carbohydrates; 2.9g fiber; 6.4g sugar; 13.9g net carbs; 23.2g protein.
Recipe and photograph by Hope Cantil; Copyright © 1999; property of CooksRecipes.com. See Terms of Use.