Everyday Turkey Sausage and Peppers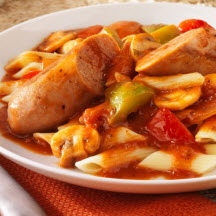 Quick and easy! This hearty meal-in-one combines smoked turkey sausage with mushrooms, onions, peppers and pasta, it's sure to please the entire family.
Recipe Ingredients:
3 tablespoons canola oil
1 package Butterball® Everyday Smoked Dinner Sausage
2 cups chopped onions
1 tablespoon minced garlic
2 cups sliced mushrooms
1 1/2 cups chopped green peppers
1 1/2 cups chopped red peppers
1 (24-ounce) jar chunky tomato sauce
1 (12-ounce) jar turkey gravy
1 tablespoon dried oregano leaves
1 teaspoon salt
1/2 teaspoon ground black pepper
4 cups hot cooked pasta
Cooking Directions:
Heat oil in large skillet on medium heat. Add sausage and cook 5 to 6 minutes until lightly browned on all sides, turning frequently. Reduce heat to low. Remove from pan; cool. Cut sausage into 1/2-inch thick diagonal slices; set aside.
Cook onions and garlic in same skillet on medium-high heat 3 to 5 minutes until lightly brown, stirring frequently.
Stir in mushrooms and peppers. Cook 3 to 5 minutes until lightly browned, stirring occasionally.
Add tomato sauce, gravy, spices and sausage. Bring to boil; reduce heat. Simmer, uncovered, 30 minutes.
Place pasta on serving platter. Top with sausage mixture.
Makes 4 servings.
Nutritional Information Per Serving (1/4 of recipe): Calories 533; Fat 24g; Cholesterol 76; Protein 31g; Saturated Fat 4g; Trans Fat 0g; Sodium 3045mg; Carbohydrates 46g; Sugar 15g; Iron 15%; Fiber 32%; Calcium 4%.
Recipe and photograph provided courtesy of Butterball, LLC.