Pan-Grilled Sausage with Sautéed Apples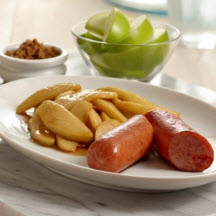 Smoked turkey sausage is pan-grilled and served along side sliced apples that have been sautéed in a brown sugar and butter mixture. It's a simple and perfect dish to celebrate Fall.
Recipe Ingredients:
2 tablespoons vegetable oil
1 (14-ounce) package Butterball Smoked Turkey Dinner Sausage, cut into 4 equal pieces
1/4 cup butter
1/4 cup brown sugar, firmly packed
2 tablespoons lemon juice
1/16 teaspoon sea salt
4 Granny Smith apples, peeled, cored, sliced
Cooking Directions:
Cook sausage in oil in large skillet on medium heat 10 to 12 minutes, turning frequently, until golden brown on all sides and internal temperature reaches 165°F (73.8°C).
Meanwhile, in a separate skillet, melt butter on medium heat. Stir in brown sugar, lemon juice and salt until well combined. Add apples, stirring to coat with brown sugar mixture. Cook apples 4 to 6 minutes or until tender, stirring occasionally.
Divide apples evenly between 4 plates. Serve each with 1 piece of sausage.
Makes 4 servings.
Nutritional Information Per Serving (1/4 of recipe): Calories 488; Fat 30g; Cholesterol 89; Protein 16g; Saturated Fat 12g; Trans Fat 0g; Sodium 1336mg; Carbohydrates 42g; Sugar 30g; Iron 2%; Fiber 8%; Calcium 2%.
Recipe and photograph provided courtesy of Butterball, LLC.