Hot Tamale Pie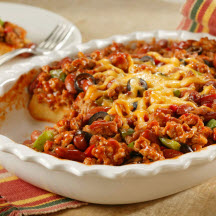 This savory meat pie is a layered version of the popular Mexican dish, tamales. The dish is easy enough to put together for a weekday meal, and good enough to serve company. Complete the meal with a tossed green salad and your favorite beverage.
Recipe Ingredients:
Crust:
1/2 cup yellow or white cornmeal
1/2 cup cold water
1/4 teaspoon salt
1/4 teaspoon ground cumin
1/8 teaspoon ground red pepper (cayenne)
1 1/3 cups water
1 pound ground pork
Salt and ground black pepper to taste
1 large onion, chopped
1 red or yellow sweet bell pepper, chopped
1 (15.5-ounce) can red kidney beans, drained
1 (10-ounce) can enchilada sauce
1 (2.25-ounce) can sliced pitted ripe olives, drained
1 cup shredded cheddar or Monterey Jack cheese
Cooking Directions:
For Crust: In a bowl combine the cornmeal, 1/2 cup cold water, salt, cumin and red pepper. In medium saucepan bring the 1 1/3 cups water to a boil. Slowly add cornmeal mixture; stirring constantly to make sure it does not lump. Return to a boil, stirring constantly. Lower heat and cook for 10 minutes or until very thick, stirring occasionally. Spread the hot cornmeal mixture into a greased 7x12-inch casserole.
Meanwhile, in a large nonstick skillet cook the pork, seasoned with salt and pepper to taste, onion and sweet pepper until pork is browned and vegetables tender. Stir in beans, enchilada sauce and olives. Bring to a boil. Spoon the pork mixture over the cornmeal layer in the casserole, cover and bake in a 350°F (175°C) oven for 20 minutes.
Sprinkle with cheese; bake uncovered for 3 minutes longer or until cheese melts.
Makes 6 servings.
Nutritional Information Per Serving (1/6 of recipe): Calories 391 calories Protein 26 grams Fat 20 grams Sodium 649 milligrams Cholesterol 74 milligrams.
Recipe and photograph provided courtesy of Pork, Be Inspired®.