Italian Sausage Lasagna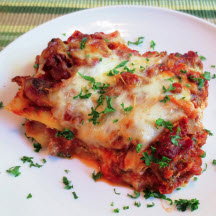 Bring out the checked tablecloth and turn your kitchen into your favorite Italian restaurant. Have warm garlic cheese bread and a green salad ready to accompany this dish.
Recipe Ingredients:
1 pound Italian sausage, casings removed
2 tablespoons olive oil
1 red pepper, seeded and thinly sliced
1 green pepper, seeded and thinly sliced
1 large yellow onion, thinly sliced
1 large yellow onion, chopped
4 cloves garlic, peeled - divided use
1 (28-ounce) can tomatoes, undrained
2 teaspoons fennel seed
Salt and ground black pepper, to taste
1 (10-ounce) package chopped frozen spinach, thawed and squeezed dry
1 tablespoon butter, melted
1 cup freshly grated Parmesan cheese - divided use
3 cups ricotta cheese
2 ounces mozzarella cheese, shredded (1/2 cup)
9 lasagna noodles, cooked according to package directions
Cooking Directions:
In large heavy skillet, crumble and brown sausage until well-browned; drain off fat, set sausage aside.
Wipe skillet clean; heat olive oil over medium-high heat; add sliced peppers and the sliced onion and 2 cloves of garlic. Cover and cook over medium heat, stirring occasionally, until vegetables are wilted, about 10 minutes.
Add tomatoes and fennel seed. Reduce heat to low and simmer about 20 to 30 minutes, to develop flavors. Stir in reserved sausage. Season sauce to taste with salt and pepper; set aside.
Squeeze all liquid from thawed spinach, set aside.
In small saucepan, sauté the chopped onion and 2 remaining garlic cloves in the butter until wilted, about 10 minutes.
Stir in spinach and 1/4 cup of the Parmesan cheese, set aside.
In a medium bowl, stir together the ricotta, mozzarella and 1/2 cup of the Parmesan cheese. Season with salt and pepper, to taste.
Preheat oven to 350°F (175°C).
Pour one-third of tomato sauce into a greased 13x9x2-inch baking dish; spread evenly. Arrange 3 noodles in the dish and spread one-half of the spinach over the noodles. Spread one-half of the cheese mixture evenly over the spinach. Repeat this layering process once more. Top with the remaining 3 noodles and tomato sauce. Sprinkle top of dish with remaining 1/4 cup of Parmesan cheese.
Bake lasagna for about 1 hour, or until bubbly and browned on top.
Let cool for 10 to 15 minutes before serving.
Makes 8 servings.
Nutritional Information Per Serving (1/8 of recipe): Calories: 497 calories; Protein: 29 grams; Fat: 25 grams; Sodium: 794 milligrams; Cholesterol: 67 milligrams; Saturated Fat: 11 grams; Carbohydrates: 41 grams; Fiber: 5 grams.
Recipe and photograph provided courtesy of Pork, Be Inspired®.