Lasagna with Spicy Pork Italian Sausage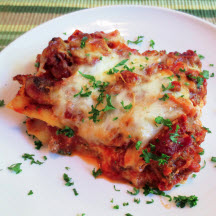 Recipe by Danica Pike of danicasdaily.com.
Recipe Ingredients:
1 1/4 pounds lean ground pork
1/2 cup minced fresh parsley, plus 1/2 cup roughly chopped fresh parsley or basil
1/4 cup minced onion, plus 1 onion, diced
2 teaspoons paprika
2 teaspoons fresh thyme leaves
1 teaspoon ground fennel seed
1 teaspoon red pepper flakes
1 teaspoon salt
1/4 teaspoon ground black pepper
7 cloves garlic, minced - divided use
1 tablespoon olive oil
2 cups white mushrooms, sliced
1 (28-ounce) can crushed tomatoes
1 (14.5-ounce) can diced tomatoes
1 (6-ounce) can tomato paste
1 cup dry red wine
2 teaspoons Italian seasoning
1 (15-ounce) container low-fat ricotta cheese
1 large egg
12 ounces no-boil lasagna noodles
9 ounces part-skim mozzarella cheese, finely shredded
1 ounce freshly grated Parmesan cheese
Cooking Directions:
In a large bowl, combine the pork, minced parsley, minced onion, paprika, thyme, fennel, red pepper flakes, salt, black pepper and half the garlic Set aside in the refrigerator.
In a large saucepan or small stockpot over medium heat, warm the oil. Add the diced onion, mushrooms and remaining garlic and cook, stirring occasionally, until the onion is tender, 5 to 7 minutes. Stir in all the tomatoes (with their juices), wine and Italian seasoning. Bring to a boil, reduce to a simmer, cover and cook for 1 hour.
After about 45 minutes, in a large skillet over medium heat, cook the pork mixture, breaking it up with a spoon or spatula, until no longer pink, 6 to 7 minutes.
Stir the cooked pork mixture into the tomato mixture, cover and simmer for 10 minutes.
Meanwhile, preheat the oven to 375°F (190°C).
In a medium bowl, combine the ricotta, egg and roughly chopped parsley or basil. Set aside.
Spray a 13x9x2-inch pan with nonstick spray and arrange 1/3 of the noodles on the bottom of the pan. Spread 1/3 of the tomato sauce over the noodles. Top with 1/3 of the ricotta mixture and 1/3 of the mozzarella. Add two more layers of noodles, tomato sauce, ricotta mixture and mozzarella. Top with the freshly grated Parmesan cheese.
Bake uncovered until browned and heated through, 35 to 40 minutes.
Makes 6 servings.
Nutritional Information Per Serving (1/6 of recipe): Calories: 469; Total Fat: 33g; Saturated Fat: 12g; Cholesterol: 79mg; Total Carbs: 20g; Fiber: 6g; Protein: 19g; Sodium: 1433mg.
Recipe and photograph provided courtesy of Pork, Be Inspired®.