Layered Spaghetti Pie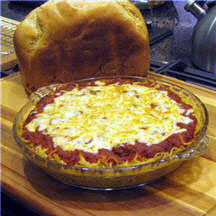 This recipe, with just a few added ingredients, turns leftover spaghetti sauce and pasta into a delicious new dish—which (in our opinion) makes it a 5-star 'leftover makeover' dish. That said, it's also good to know that there is no need to wait for leftovers to make this tasty dish!
Recipe Ingredients:
2 large eggs - divided use
1 cup freshly grated Parmesan cheese - divided use
3/4 teaspoon kosher or sea salt - divided use
Freshly ground black pepper to taste
Approximately 3 to 4 cups cooked spaghetti pasta* (or 6 to 8 ounces uncooked spaghetti)
8 ounces (or scant 1 cup) ricotta cheese
1 teaspoon dried parsley
2 cups (8 ounces) shredded mozzarella cheese - divided use
2 cups spaghetti or marinara sauce*
Cooking Directions:
Preheat oven to 350°F (175°C). Grease a 9-inch deep-dish pie plate; set aside.
In a medium bowl, stir together 1 egg, 1/3 cup Parmesan cheese, 1/4 teaspoon salt and pepper. Add the cooked spaghetti pasta and toss to coat pasta well. Press pasta mixture into prepared pie plate.
Place the remaining 1 egg in another bowl and slightly beat with a fork; add the ricotta cheese, remaining 2/3 cup Parmesan cheese, 1/2 teaspoon salt, pepper and parsley; stir with fork to combine well. Spread mixture evenly over the pasta layer.
Sprinkle half the mozzarella cheese over the ricotta cheese layer.
Spoon or pour the spaghetti or marinara sauce evenly over the mozzarella layer; cover with foil.
Bake for 45 minutes; remove from oven, carefully remove the foil covering and sprinkle remaining half of mozzarella cheese over the top. Return to oven, uncovered, and bake for an additional 10 minutes, or until cheese is melted.
Allow to set set for a minimum of 10 minutes before slicing into wedges to serve.
Makes 6 servings.
*The amount of cooked spaghetti pasta doesn't have to be exact, a little more or a little less won't make much difference taste-wise. Recipe can be doubled and baked in a 13x9x2-inch pan.
Nutritional Information Per Serving (1/6 of recipe using 6 ounces uncooked spaghetti pasta or 3 cups cooked): 427.8 calories; 40% calories from fat; 18.9g total fat; 125.0mg cholesterol; 1235.8mg sodium; 488.8mg potassium; 34.7g carbohydrates; 1.0g fiber; 8.8g sugar; 33.6g net carbs; 28.8g protein.
Recipe and photograph by Hope Cantil; Copyright © 1999; property of CooksRecipes.com. See Terms of Use.