Plantain and Beef Pie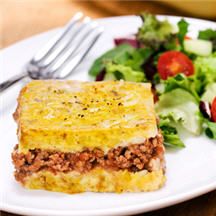 This recipe for a savory main dish pie, using ground beef and tropical plantains, is a hearty and delicious choice for a family meal when you'd like to try something unique. Garnish with some extra shredded mozzarella cheese for extra eye appeal.
Recipe Ingredients:
6 very ripe plantains, peeled and cut into 1-inch pieces
1 (7.6-ounce) can NESTLÉ Media Crema
1 teaspoon salt
1 pound lean ground beef
1/2 small onion, chopped
2 cloves garlic, finely minced
1 cup tomato sauce
1 MAGGI Beef Flavor Bouillon Tablet, crushed (1 teaspoon)
1 cup (4 ounces) shredded mozzarella cheese - divided use
Cooking Directions:
Place plantains in large saucepan; cover with water. Bring plantains to a boil; reduce heat to medium and cook for 30 minutes or until plantains are tender. Drain; add media crema and salt. Mash until smooth; set aside.
Preheat oven to 375°F (190°C).
Cook beef, onion and garlic in large skillet over medium-high heat, stirring frequently, until beef is no longer pink. Stir in tomato sauce and bouillon; cook for 8 minutes or until liquid has evaporated. Remove from heat.
Spread half of plantain mixture on bottom of 13x9x2-inch baking dish. Sprinkle with 1/2 cup cheese. Top with beef mixture. Sprinkle remaining 1/2 cup cheese over beef mixture. Finish by spreading remaining plantain mixture over beef.
Bake for 30 minutes or until bubbly and golden on top. Serve warm.
Makes 6 servings.
Recipe and photograph are the property of Nestlé® and Meals.com, used with permission.