Sauerkraut and Sausage over Mashed Potatoes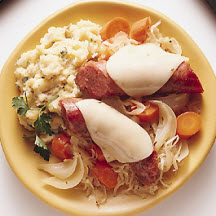 A hearty and satisfying dish of sauerkraut and smoked sausage served over mashed potatoes. Makes a comforting meal for cool autumn and winter evenings.
Recipe Ingredients:
Sauerkraut and Sausage:
2 medium sweet onions, cut into wedges
5 carrots, peeled and cut into 1/2-inch pieces
1 (32-ounce) jar sauerkraut, drained
2 cups apple juice
1 tablespoon caraway seeds
1 teaspoon coarse ground pepper
2 pounds smoked sausage, such as Polish (2 rings or 8 links, 5-inches each)
1/2 cup (2 ounces) Wisconsin Caraway Havarti or Caraway Jack Cheese*
1/2 cup Italian flat-leaf parsley, chopped
Mashed Potatoes:
2 1/2 pounds russet potatoes, cut into chunks
2 cups (8 ounces) Wisconsin Smoked Gouda Cheese, shredded
1 cup milk
1/2 teaspoon salt
1/2 teaspoon coarse ground pepper
1/2 cup Italian flat-leaf parsley
Cooking Directions:
Preheat the oven to 350°F (175°C).
For Sauerkraut and Sausage: In Dutch oven, combine onions, carrots, sauerkraut, apple juice, caraway seeds and pepper. Top with the sausage. Cover, and bake for 1 hour.
For Mashed Potatoes: In a 3-quart saucepan, boil potatoes until tender (20 to 30 minutes). Drain potatoes; add the Smoked Gouda cheese. Mash the potatoes. Stir in milk, salt, pepper, and parsley.
Spoon potatoes onto individual plates; top with sauerkraut and portions of sausage.
Makes 6 servings.
*Or plain Havarti or Jack cheese.
Recipe and photograph provided courtesy of Wisconsin Milk Marketing Board, Inc.