Simmered Spaghetti Sauce with Italian Sausage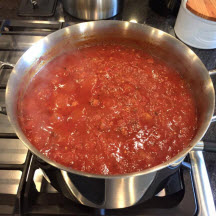 My family loves spaghetti night. We like to pile the spaghetti pasta onto our plates, generously ladle on the meat sauce, and then top it off with freshly grated Parmesan cheese.
Making a good spaghetti sauce is serious business in my kitchen, check out my "secret" recipe tips below.
Recipe Ingredients:
2 teaspoons dried basil leaves
1 teaspoon dried oregano leaves
1 large bay leaf (or 2 small)
1 tablespoon extra virgin olive oil
1 (19 to 20-ounce) package sweet or hot Italian bulk sausage or links, casings removed
1 medium onion, peeled and chopped
8 cloves garlic, finely minced (or a heaping 1 tablespoon)
1 large carrot, pared and finely shredded
1/3 cup chopped red or green bell pepper (I prefer the sweeter taste of red bell pepper)
2 (6-ounce) cans tomato paste
1 (28-ounce) can crushed Roma tomatoes in juice
3 to 4 cups water**
1 teaspoon dark or light brown sugar, firmly packed
2 teaspoons kosher or sea salt
1/2 teaspoon freshly ground black pepper
1 (4-ounce) can sliced mushrooms (optional)

16 ounces premium brand of spaghetti pasta, cooked al dente according to package directions
Freshly grated Parmesan cheese for accompaniment
Cooking Directions:
In small bowl combine the basil leaves, oregano leaves and bay leaf; set aside.
In a large cooking pot, heat olive oil over medium heat and add the sausage, breaking up as needed with a wooden spoon, and cook until nicely browned.
Add the onion, garlic, carrot, bell pepper and reserved spice mixture; cook, stirring frequently, until onion has softened.
Add the tomato paste and cook, stirring constantly, for 2 to 3 minutes.
Add the crushed tomatoes, water, brown sugar, salt, pepper and, if using, the mushrooms. Bring sauce to a boil, reduce heat, cover, and simmer for 3 to 4 hours, stirring occasionally. Discard bay leaf (or leaves).
To serve, ladle the meat sauce over a bed of cooked spaghetti and sprinkle with freshly grated Parmesan cheese.
Makes 6 servings.
*Add just enough water to obtain the consistency you prefer. Also, be aware that canned crushed tomatoes can differ greatly as well, some can be quite thick, and others can be downright watery.
Hope's "Secret" Spaghetti Sauce Tips:
Always taste the sauce and adjust the seasonings as needed. The point is, the flavor of ingredients do change, even that favored brand of Italian sausage might not taste quite as good as it use to...perhaps due to the manufacturer cutting costs.
For those who really love that unique"Italian sausage flavor", add a teaspoon, more or less, of crushed anise seed or anise weed to the seasonings.
Like it spicier? Before cooking the sausage in the olive oil, first toss in some red pepper flakes to taste, stirring constantly for several seconds until the incredible aroma hits your nose...then quickly add the sausage and procede with the recipe.
Add a good squeeze or two of fresh lemon juice to the sauce, you'll be amazed at how it enhances the flavor.
Try adding a tablespoon or so of soy sauce...don't ask, it just works.
Lastly this is the secret tip that makes the difference between a good sauce and a "wow 'em" sauce: Always, always save at least 1 1/2 to 2 cups of sauce in the freezer to use in the next batch. This "saved" sauce is called a "seed sauce", add it to the new batch of sauce as the last ingredient. This is the one "secret ingredient" of a good spaghetti sauce worth its weight in gold!
Nutritional Information Per Serving (1/6 of recipe; does not include the pasta or Parmesan cheese): 221.1 calories; 39% calories from fat; 9.8g total fat; 25.2mg cholesterol; 1658.7mg sodium; 898.4mg potassium; 19.4g carbohydrates; 4.2g fiber; 10.2g sugar; 15.1g net carbs; 16.9g protein.
Recipe and photograph by Hope Cantil; Copyright © 1999; property of CooksRecipes.com. See Terms of Use.