South-of-the-Border Beef Hash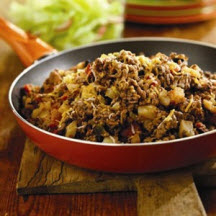 An easy ground beef hash that comes together quickly with the use of frozen hash brown potatoes and a jar of thick and chunky salsa. Complete this "busy day skillet meal" with a simple green salad and sliced peaches sprinkled with cinnamon.
This recipe is an excellent source of protein, niacin, vitamin B6, vitamin B12, iron, selenium and zinc; and a good source of fiber.
Recipe Ingredients:
1 pound ground beef (75% to 80% lean)
3 cups frozen hash brown potatoes O'Brien
1 1/2 cups prepared thick-and-chunky salsa
1 (4 to 4.5-ounce) can chopped mild green chilies
1/2 cup shredded Mexican cheese blend or cheddar cheese
Cooking Directions:
Heat large nonstick skillet over medium heat until hot. Add ground beef; cook 8 to 10 minutes, breaking into 3/4-inch crumbles and stirring occasionally. Pour off drippings.
Stir in potatoes. Cook 5 minutes, stirring occasionally. Stir in salsa and chilies; continue cooking 8 to 10 minutes or until potatoes are lightly browned, stirring occasionally. Sprinkle with cheese. Let stand 5 minutes.
Makes 4 servings.
Test Kitchen Tips:
Cooking times are for fresh or thoroughly thawed ground beef.
Ground beef should be cooked to an internal temperature of 160°F (71.1°C).
Color is not a reliable indicator of ground beef doneness.
Nutritional Information Per Serving (1/4 of recipe): 422 calories; 19 g fat (9 g saturated fat; 7 g monounsaturated fat); 87 mg cholesterol; 999 mg sodium; 33 g carbohydrate; 3.7 g fiber; 28 g protein; 6.6 mg niacin; 0.7 mg vitamin B6; 2.4 mcg vitamin B12; 3.9 mg iron; 20.3 mcg selenium; 6.2 mg zinc.
Recipe and photograph courtesy of The Beef Checkoff.