Stuffed Beef & Black Bean Tamale Pie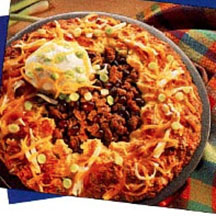 This delicious and easy ground beef and black bean tamale pie will satisfy the heartiest appetites.
Recipe Ingredients:
1 pound lean ground beef
1 (1.25-ounce) package taco seasoning mix
1 (15-ounce) can black beans, drained and rinsed
1/2 cup water
1 (8.75-ounce) can corn, drained well (or 1 cup frozen)
1 1/2 cups sour cream - divided use
1 1/2 cups shredded colby-Jack or cheddar cheese - divided use
3/4 cup thinly sliced green onions
1 (8.5-ounce) package corn muffin mix
Cooking Directions:
Preheat oven to 400°F (205°C). Brown ground beef in large nonstick skillet over medium heat 8 to 10 minutes or until beef in no longer pink. Pour off drippings.
Stir seasoning mix into beef. Add beans and water; bring to a boil. Reduce heat and simmer 5 minutes, stirring occasionally.
Meanwhile combine corn muffin mix, 3/4 cup sour cream, 3/4 cup shredded cheese and 1/2 cup of green onions in medium bowl, mixing just until dry ingredients are moistened. (Batter will be stiff.)
Spread slightly more than half of batter onto bottom and up sides of 9-inch pie pan. Spoon corn evenly on top of batter. Top with beef mixture. Spoon remaining batter around outer edge of pie, then carefully spread batter toward center, leaving a 3-inch circle in center uncovered.
Bake in a preheated oven at 400°F (205°C) 23 to 25 minutes, or until top is golden brown. Top with remaining sour cream, cheese and green onion. Cut into wedges.
Makes 4 servings.
Recipe and photograph courtesy of The Beef Checkoff.