Sweet and Sour Turkey Meatballs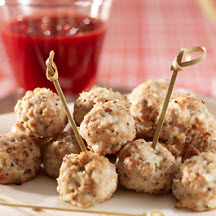 Recipe courtesy of the Wheat Foods Council and Chef Gale Gand.
Recipe Ingredients:
1 pound lean ground turkey
2 slices whole wheat bread, toasted, torn into small pieces
1 large egg white
1/2 cup onion, finely chopped
1 clove garlic, finely chopped (1/2 tsp.)
1 teaspoon dried oregano
1 teaspoon dried basil
1/2 teaspoon salt
1/2 teaspoon freshly ground pepper
2/3 cup chili sauce
1 (8-ounce) can jellied cranberry sauce
Cooking Directions:
Preheat oven to 375°F (190°C). Spray a 15x10x1-inch baking sheet (jelly roll pan) with nonstick cooking spray or line with baking parchment.
In large bowl, combine turkey, bread crumbs, egg white, onion, garlic and herbs. Gently mix with wooden spoon or by hand until well blended.
Form turkey mixture into 1-in. balls; place on baking sheet. Bake for about 25 minutes or until no longer pink in center and juices run clear; while meatballs are baking, mix chili and cranberry sauces in medium saucepan. Heat over medium heat, stirring frequently, for about 10 minutes or until smooth and hot.
Serve meatballs with sauce, either pouring sauce over them or using the sauce for dipping.
Makes 4 (5 meatball) servings.
Recipe courtesy of "Food for Thought: From Parents to Children" - a cookbook created from the collaboration of the Wheat Foods Council, Chef Gale Gand and parents around the country. By purchasing the book for $3.50, you can support Spoons Across America, a not-for-profit organization dedicated to educating children, teachers and families about the benefits of healthy eating. The 35 nutritious and flavorful wheat-based recipes found within the book are fun to make and will help teach children about nutritious food choices. Cookbooks are available at www.wheatfoods.org. If you have any questions, contact wfc@wheatfoods.org.
Nutritional Information Per Serving (1/4 of recipe): Calories: 342; Total Fat: 10g; Saturated Fat: 3g; Cholesterol: 90mg; Total Carbs: 40g; Fiber: 3g; Protein: 24g; Sodium: 1021mg.
Recipe and photograph courtesy of Wheat Foods Council.