Western Wagon Wheels with Tomato Ale Sauce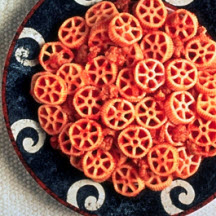 Recipe courtesy of the National Pasta Association.
Recipe Ingredients:
1 pound wagon wheel pasta, rotini or other medium pasta shape, uncooked
1/3 pound country-style turkey sausage, casing removed, broken into pieces
1 tablespoon vegetable oil
1 medium onion, finely chopped
3 cloves garlic, mashed
1 cup ale or beer, flat
1 (28-ounce) can low-sodium tomato puree
1/4 cup applesauce
1 teaspoon salt
freshly ground black pepper to taste
1 small bay leaf
French Bread (optional)
Cooking Directions:
In a large saucepan, cook the sausage over medium heat. Remove sausage with a slotted spoon and reserve.
Add oil, onion and garlic to pan. Cook over medium heat until onions are translucent.
Add the remaining ingredients and simmer over low heat for 1 hour, stirring occasionally.
Remove bay leaf and add the reserved sausage. Simmer until the sausage is heated through, approximately 5 minutes.
Toss pasta with sauce and serve with French bread.
Makes 4 servings.
Recipe and photograph courtesy of the National Pasta Association.