Worste Brookjes (Pigs in a Blanket)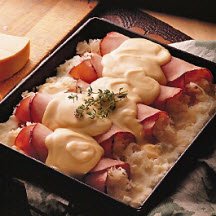 Recipe courtesy of Wisconsin Milk Marketing Board.
Recipe Ingredients:
Dough:
2 tablespoon granulated sugar
1 teaspoon salt
2 tablespoons vegetable shortening
1 cup water, lukewarm
1 (0.25-ounce) package active dry yeast or 2 1/4 teaspoons
1 large egg, beaten
3 1/4 cups all-purpose flour
Filling:
1 1/2 pounds lean ground pork
1/2 cups dried bread crumbs
1/2 cup milk
1 large egg
1/4 teaspoon nutmeg
1/4 teaspoon mace
Dash salt
Dash ground black pepper
Cooking Directions:
Combine sugar, salt and shortening in bowl, add water and yeast. Mix well, add beaten egg, then flour. Knead well. Let rise 1 hour.
Preheat oven to 350°F (175°C).
Turn dough onto floured board and roll to 12x24-inch rectangle approximately 1/2-inch thick. Cut into 18 (4-inch) squares.
Mix all filling ingredients; shape 2 tablespoon of mixture into a roll; wrap each filling roll with a square of dough. Seal ends and place seam-side down on baking sheet.
Bake at 350°F (175°C) for 30 minutes or until browned.
Makes 18 servings.
Recipe and photograph courtesy of Wisconsin Milk Marketing Board.