Best Brownies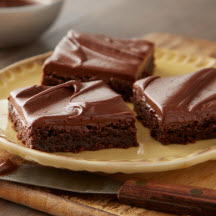 Hershey's best brownie recipe with creamy chocolate frosting. These brownies are tops in their class!
Recipe Ingredients:
1/2 cup butter or margarine, melted
1 cup granulated sugar
1 teaspoon vanilla extract
2 large eggs
1/2 cup all-purpose flour
1/3 cup HERSHEY'S Cocoa
1/4 teaspoon baking powder
1/4 teaspoon salt
1/2 cup chopped nuts (optional)
CREAMY BROWNIE FROSTING:
3 tablespoons butter or margarine, softened
3 tablespoons HERSHEY'S Cocoa
1 tablespoon light corn syrup or honey
1/2 teaspoon vanilla extract
1 cup powdered sugar
1 to 2 tablespoons milk
Cooking Directions:
Preheat oven to 350°F (175°C). Grease 9-inch square baking pan.
Stir together butter, sugar and vanilla in bowl. Add eggs; beat well with spoon.
Stir together flour, cocoa, baking powder and salt; gradually add to egg mixture, beating until well blended. Stir in nuts, if desired. Spread batter evenly into prepared pan.
Bake 20 to 25 minutes or until brownies begin to pull away from sides of pan. Cool completely in pan on wire rack.
Prepare CREAMY BROWNIE FROSTING; spread over brownies. Cut into squares.
FOR CREAMY BROWNIE FROSTING: Beat butter, cocoa, corn syrup and vanilla in small bowl until blended.
Add powdered sugar and milk; beat to spreading consistency. Makes about 1 cup frosting.
Makes 16 brownies.
Recipe and photograph courtesy of the Hershey Kitchens, and reprinted with permission of The Hershey Company. © The Hershey Company.