Creamy Filled Brownies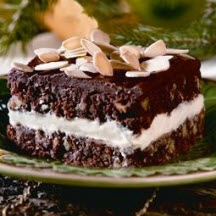 Chewy chocolate nut brownies with a cream cheese filling, topped with a chocolate glaze and garnished with sliced almonds or nuts.
Recipe Ingredients:
1/2 cup butter or margarine
1/3 cup HERSHEY'S Cocoa
2 large eggs
1 cup granulated sugar
1/2 cup all-purpose flour
1/4 teaspoon baking powder
1/4 teaspoon salt
1 teaspoon vanilla extract
1 cup finely chopped nuts
CREAMY FILLING (recipe follows)
MINI CHIP GLAZE (recipe follows)
1/2 cup sliced almonds or chopped nuts (optional)
Cooking Directions:
Preheat oven to 350°F (175°C). Line 15 1/2 x 10 1/2 x 1-inch jelly roll pan with foil; grease foil.
Melt butter in small saucepan; remove from heat. Stir in cocoa until smooth.
Beat eggs in medium bowl; gradually add sugar, beating until fluffy.
Stir together flour, baking powder and salt; add to egg mixture. Add cocoa mixture and vanilla; beat well. Stir in 1 cup chopped nuts. Spread batter into prepared pan.
Bake 12 to 14 minutes or until top springs back when touched lightly in center. Cool completely in pan on wire rack; remove from pan to cutting board. Remove foil; cut brownie in half crosswise.
Spread one half with CREAMY FILLING; top with second half.
Spread MINI CHIP GLAZE over top; sprinkle with almonds, if desired.
After glaze has set, cut into bars.
Makes about 24 brownies.
CREAMY FILLING: Beat 1 (3-ounce) package softened cream cheese, 2 tablespoons softened butter or margarine and 1 teaspoon vanilla extract in small bowl. Gradually add 1 1/2 cups powdered sugar, beating until of spreading consistency.
MINI CHIP GLAZE: In small saucepan, heat 1/4 cup granulated sugar and 2 tablespoons water to boiling. Remove from heat. Immediately add 1/2 cup HERSHEY'S MINI CHIPS Semi-Sweet Chocolate, stirring until melted.
VARIATIONS:
COFFEE: Add 1 teaspoon powdered instant coffee.

ORANGE: Add 1/2 teaspoon freshly grated orange peel and 1 or 2 drops orange food color.

ALMOND: Add 1/4 teaspoon almond extract.
Recipe and photograph courtesy of the Hershey Kitchens, and reprinted with permission of The Hershey Company. © The Hershey Company.