Double Chocolate Mint Bars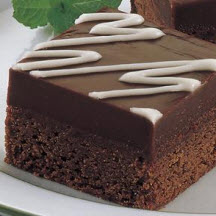 Mint-flavored cookie bars topped with a mint-flavored semi-sweet chocolate chip and sweetened condensed milk mixture and decorated with a vanilla glaze drizzle.
Recipe Ingredients:
1 3/4 cups all-purpose flour
1 cup granulated sugar
1/2 cup HERSHEY'S Cocoa
1/3 cup packed light brown sugar
1 1/2 teaspoons baking powder
1/4 teaspoon salt
1 1/4 cups butter or margarine - divided use
3 large eggs, slightly beaten
1/2 teaspoon mint extract - divided use
2 cups (12-ounce package) HERSHEY'S Semi-Sweet Chocolate Chips
1 (14-ounce) can sweetened condensed milk (not evaporated milk)
Vanilla Glaze (recipe follows)
Cooking Directions:
Preheat oven to 350°F (175°C). Grease 13 x 9 x 2-inch baking pan.
In large bowl, stir together flour, granulated sugar, cocoa, brown sugar, baking powder and salt.
Cut in 3/4 cup butter until mixture resembles coarse crumbs. Beat in eggs and 1/4 teaspoon mint extract; spread mixture into pan.
Bake 23 to 25 minutes or until wooden pick inserted in center comes out clean.
In saucepan over low heat, melt 1/2 cup butter with chocolate chips, stirring constantly.
Stir in sweetened condensed milk. Remove from heat; stir in remaining 1/4 teaspoon mint extract. Pour over baked layer. Let stand 20 minutes or until slightly set.
Drizzle Vanilla Glaze over top. Refrigerate until set, about 1 hour. Cut into bars.
Makes about 24 bars.
Vanilla Glaze: Stir together 3/4 cup powdered sugar, 5 teaspoons milk and 1/2 teaspoon vanilla extract. Makes about 1/3 cup glaze.
Recipe and photograph courtesy of the Hershey Kitchens, and reprinted with permission of The Hershey Company. © The Hershey Company.