Fudgey Caramel Brownie Bars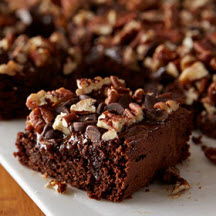 Sorry to say, Hershey's no longer makes the Caramel Filled Baking pieces, however you can substitute with similar chocolate-covered soft caramel candies.
Recipe Ingredients:
6 tablespoons butter or margarine, softened
3/4 cup granulated sugar
1 large egg
1/2 teaspoon vanilla extract
1 1/3 cups all-purpose flour
1/4 cup HERSHEY'S Cocoa
1/8 teaspoon salt
1 1/3 cups (8-ounce package) HERSHEY'S Caramel Filled Baking Pieces - divided use
1 cup pecan pieces
1 teaspoon water
Fudgey Filling:
1/2 cup butter or margarine
2/3 cup HERSHEY'S Cocoa
1/3 cup granulated sugar
1 (14-ounce) can sweetened condensed milk
1 1/2 teaspoons vanilla extract
Cooking Directions:
Preheat oven to 350°F (175°C). Grease 13 x 9 x 2-inch baking pan.
Beat butter and sugar in medium bowl until well blended. Add egg and vanilla, beating until smooth.
Stir together flour, cocoa and salt. Beat into butter mixture until well blended.
Press dough onto bottom of prepared pan.
Make Fudgey Filling. Pour filling over dough in pan.
Set aside 1/4 cup baking pieces. Stir together remaining baking pieces and pecans; sprinkle over fudge filling.
Bake 25 to 30 minutes or until filling in center is set and baking pieces along edges of pan are bubbly. Remove from oven to wire rack. Cool 15 to 20 minutes.
Place reserved 1/4 cup baking pieces and water in small microwave-safe bowl. Microwave at HIGH (100%) 30 seconds; stir. If necessary, microwave at HIGH an additional 15 seconds at a time, stirring after each heating, until pieces are melted and smooth when stirred.
Drizzle over surface. Cool completely. Cut into bars.
For Fudgey Filling: Melt butter in saucepan over low heat. Stir in cocoa and sugar. Add sweetened condensed milk; cook, stirring constantly, until sugar is dissolved and mixture is smooth. Remove from heat. Stir in vanilla. Makes about 2 cups filling.
Makes about 36 bars.
Recipe and photograph courtesy of the Hershey Kitchens, and reprinted with permission of The Hershey Company. © The Hershey Company.