Marbled Cheesecake Bars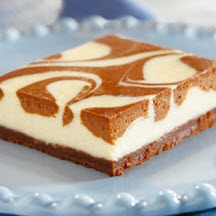 A cocoa-infused vanilla wafer cookie crust is topped with vanilla cheesecake swirled with chocolate cheesecake.
Recipe Ingredients:
3 (8-ounce each) packages cream cheese, softened
1 (14-ounce) can sweetened condensed milk (not evaporated milk)
3 large eggs
2 teaspoons vanilla extract
2 (1-ounce each) bars HERSHEY'S Unsweetened Baking Chocolate, melted
Chocolate Crust (recipe follows)
Cooking Directions:
Prepare Chocolate Crust. Preheat oven to 300°F (150°C).
Beat cream cheese in large bowl until fluffy. Gradually add sweetened condensed milk, beating until smooth. Add eggs and vanilla; mix well.
Pour half of batter evenly over prepared crust.
Stir melted chocolate into remaining batter; drop by spoonfuls over vanilla batter. With metal spatula or knife, swirl gently through batter to marble.
Bake 45 to 50 minutes or until set. Cool in pan on wire rack. Refrigerate several hours until chilled. Cut into bars. Cover; store leftover bars in refrigerator.
Makes about 24 to 36 bars.
Chocolate Crust: Stir together 2 cups vanilla wafer crumbs (about 60 wafers), 1/3 cup HERSHEY'S Cocoa and 1/2 cup powdered sugar in medium bowl. Stir in 1/2 cup melted butter or margarine until well blended. Press mixture firmly on bottom of 13 x 9 x 2-inch baking pan.
Recipe and photograph courtesy of the Hershey Kitchens, and reprinted with permission of The Hershey Company. © The Hershey Company.