Mini Kisses Coconut Macaroon Bars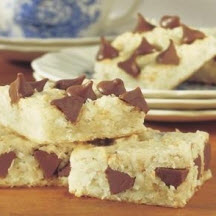 Moist and chewy coconut macaroon bars studded with mini chocolate Kisses.
Recipe Ingredients:
3 3/4 cups MOUNDS Sweetened Coconut Flakes
3/4 cup granulated sugar
1/4 cup all-purpose flour
1/4 teaspoon salt
3 large egg whites
1 large egg, slightly beaten
1 teaspoon almond extract
1 cup HERSHEY'S MINI KISSES Brand Milk Chocolates
Cooking Directions:
Preheat oven to 350°F (175°C). Lightly grease 9-inch square baking pan.
Stir together coconut, sugar, flour and salt in large bowl. Add egg whites, egg and almond extract; stir until well blended. Stir in chocolates.
Spread mixture into prepared pan, covering all chocolate pieces with coconut mixture.
Bake 35 minutes or until lightly browned. Remove from oven to wire rack. Cool completely in pan on wire rack. Cover with foil; allow to stand at room temperature about 8 hours or overnight. Cut into bars.
Makes about 24 bars.
Variation: Omit chocolate pieces in batter. Immediately after removing pan from oven, place desired number of chocolates on top, pressing down lightly. Cool completely. Cut into bars.
Recipe and photograph courtesy of the Hershey Kitchens, and reprinted with permission of The Hershey Company. © The Hershey Company.